Criminal Justice Reform Can Help With State Fiscal Woes
Criminal Justice Reform Can Help With State Fiscal Woes
Cutting back unsustainable prison spending would help state budget woes, writes Inimai Chettiar.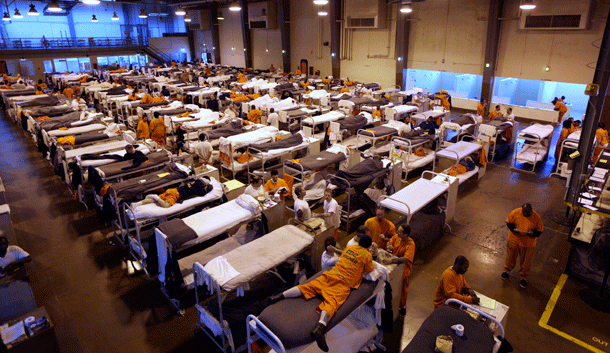 Across our nation, state governments are mired in red ink that must almost immediately become black. The Great Recession has caused the largest collapse in state revenues on record, and more than 40 states closed billions of dollars in budget shortfalls last year. Unfortunately, many states are being dangerously short-sighted about solutions to their fiscal woes: They are cutting vital spending on public education and infrastructure—which are already of abysmal quality—while actually increasing their prison budgets. States are making such policy decisions despite extensive documentation that indisputably shows alternatives to incarceration are cheaper and better at reducing recidivism.
Overall, more than $70 billion of our collective tax dollars go to our penal system, with over $50 billion paid for by states. Over the past 25 years, state corrections spending grew by 674 percent, outpacing the growth of other government expenditures and becoming the fourth-largest category of state spending. (see Figure 1 below)
This unsustainable spending on prisons is a direct result of the inefficient and ineffective policies implemented in the 1980s and 1990s that overcriminalize behavior and use prison as a one-size-fits-all solution to crime. Skipping a turnstile in the New York subway can land you in jail for a year, and four marijuana counts put you in prison for life in Louisiana. These policies are now causing our prisons to burst at the seams with petty offenders, the mentally ill, the elderly, children charged as adults, those with drug addiction in need of treatment, and poor people unable to pay their bail. With 2.3 million people behind bars, the United States is now the largest incarcerator in the world—and the racial disparities in our system are abhorrent.
A report released today by the Center for Budget and Policy Priorities and the American Civil Liberties Union details how a change to the way states evaluate the budgetary effects of proposed laws could help states find better budget solutions while protecting public safety and decreasing our incarceration rate. According to the report, "Improving Budget Analysis of State Criminal Justice Reforms: Strategies for Improving Outcomes and Saving States Money," poorly performed state evaluations of the budgetary consequences of criminal justice legislation are causing some states to spend unnecessarily on prisons while cutting other vital state programs.
Earlier this year, for example, legislators from both sides of the political aisle in Maryland sought to pass a law that would have allowed nonprison sanctions for individuals who commit technical parole violations, such as missing a meeting with their parole officer or failing to complete community service. More than one-third of the people behind bars around our nation are there for similar technical violations, not for new crimes.
This Maryland bill would have allowed the state to put a portion of the $1 billion it spends annually on corrections to better use while keeping the public safe. If implemented, this reform could have started saving the state money within three years, since that's when most people return to prison for technical violations. But a misguided state budget estimate of the bill's impact considered only the up-front costs, ignoring the future savings and thus incorrectly concluding that the program would cost too much. As a result, the bill was scaled back to only three counties. Now, the rest of Maryland will continue to send individuals who violate parole conditions back to prison.
According to the new report released today, Maryland isn't the only state where this is happening. Many state budget analyses tend to focus on the upfront start-up costs of a bill, but fail to examine the later savings these programs will bring—even savings that could be realized in the following year. The upshot: When states examine policies through a cost-only lens, instead of a cost-effectiveness lens, legislators and the public are more likely to reject policies that would actually save money overall.
Amid this mess, however, there is hope. Bipartisan leaders in some states, among them Texas, Mississippi, and Ohio, recognized the short- and long-term benefits of cutting prison spending. Over the last few years, these states implemented reforms to cut their incarceration rates and their costs—all the while protecting public safety and reducing recidivism. Such reforms—like providing effective addiction treatment instead of prison to more people convicted of drug crimes and increasing parole eligibility for elderly prisons who no longer pose safety risks—free up precious state dollars to reallocate to other societal resources such as education, infrastructure, or returning tax dollars back to working families.
Every American who cares about their wallet, their safety, and basic fairness should be asking candidates and lawmakers why our state governments are spending more and more of our hard-earned tax dollars on prisons when there are cheaper and more effective alternatives. State lawmakers would be wise to re-evaluate any short-sighted fiscal practices and implement the best practices recommended in the report. After all, effective and efficient spending defines successful state government policymaking, especially in our current, budget-constrained era.
Inimai Chettiar is a Policy Counsel at the national American Civil Liberties Union, where she serves as legislative counsel to end mass incarceration in states across the country. She has published scholarship on using economic analysis to advance progressive policies, most recently co-authoring Smart Reform is Possible: States Reducing Incarceration Rates and Costs While Protecting Public Safety and Improving Budget Analysis of State Criminal Justice Reforms: Strategies for Improving Outcomes and Saving States Money. She also serves as a Leadership Fellow at the Center for American Progress.
The positions of American Progress, and our policy experts, are independent, and the findings and conclusions presented are those of American Progress alone. A full list of supporters is available here. American Progress would like to acknowledge the many generous supporters who make our work possible.