Congress Should Allow Students to Refinance Their Loans
Congress Should Allow Students to Refinance Their Loans
We need reform that will allow students to take advantage of historically low interest rates by refinancing their student loans in order to ease their debt burdens and stimulate the economy.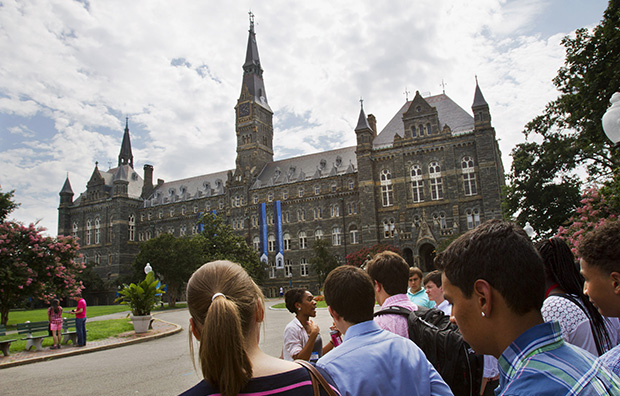 It seems as though everyone—homeowners, corporations, and even state and local governments—is taking advantage of the current historically low interest rates by refinancing their debt. Refinancing allows the borrower to replace his or her existing debt with a new loan that has better terms. It's a win for individuals and for the nation as a whole, easing the burden of loan repayment and freeing up income for purchases that stimulate the economy. But one group is getting left behind in the refinancing trend: students who take out loans to pay for their higher education.
These students are increasingly struggling. Student loan debt now amounts to $1 trillion—$864 billion of which is backed by the federal government—and an increasing percentage of borrowers are failing to keep up in repaying their loans. More than 13 percent of the students whose loans came due in 2009 defaulted on that debt within three years as a result of long-term failure to make payments. Another 26 percent of borrowers at five of the major loan-guaranty agencies became delinquent on their loans—a stop just short of default.
It is in the nation's best interest to ensure that students are able to make timely payments, and it's time for federal policymakers to take action. Congress should enact a program that allows alumni to refinance their existing student debt. This reform should include a meaningful interest-rate reduction and ought to provide a way for private-loan borrowers to consolidate their debt into the federal student loan program or otherwise modify the terms of their loans.
Refinancing is a pragmatic solution to the problem of mounting student debt in this country. Reduced student loan costs boost the likelihood of repayment while also stimulating the economy by freeing up income that can be used and spent in other sectors of the economy. They will also boost trust in government among young Americans.
Students are frustrated by the fact that neither colleges nor the government are curbing rising college tuition. They are doing quite the opposite, in fact. State governments are steadily disinvesting in public higher education. And rather than cut their costs, colleges have responded by increasing tuition, shifting the burden to families. Some students have even taken on private loans, which may bear interest rates twice as high as federal loans.
Groups such as Campus Progress are catching on to a new source of frustration for students: Interest rates on government debt are remarkably low—currently below 2 percent—yet interest rates on unsubsidized federal student loans remain stagnant at 6.8 percent.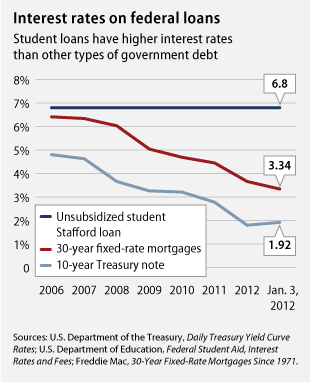 It's possible that the future will bring policies that decrease college costs and tighten government regulation of private lending. But those policies won't help recent graduates who have already assumed too much debt to pay tuition that is too high. Giving existing borrowers a break would be a gesture of good faith—a gesture that says policymakers recognize the unsustainable path student debt has taken, and that they are doing what they can to right the wrong.
The Center for American Progress and Campus Progress will release a proposal this month for large-scale modification of existing student debt that will bring greater equity and protection to the student loan industry while at the same time easing the burden of repayment. Congress would do well to take these policy ideas into consideration and lend a hand to hardworking recent graduates starting their careers in this tough economic climate.
Julie Margetta Morgan is Director of Postsecondary Access and Success at the Center for American Progress. Tobin Van Ostern is Deputy Director at Campus Progress.
The positions of American Progress, and our policy experts, are independent, and the findings and conclusions presented are those of American Progress alone. A full list of supporters is available here. American Progress would like to acknowledge the many generous supporters who make our work possible.
Authors Julie Margetta Morgan
Director of Postsecondary Access and Success Tobin Van Ostern
Deputy Director