How California Can Continue its Global Climate Leadership
How California Can Continue its Global Climate Leadership
Reauthorizing the state's cap-and-trade program is critical for global momentum.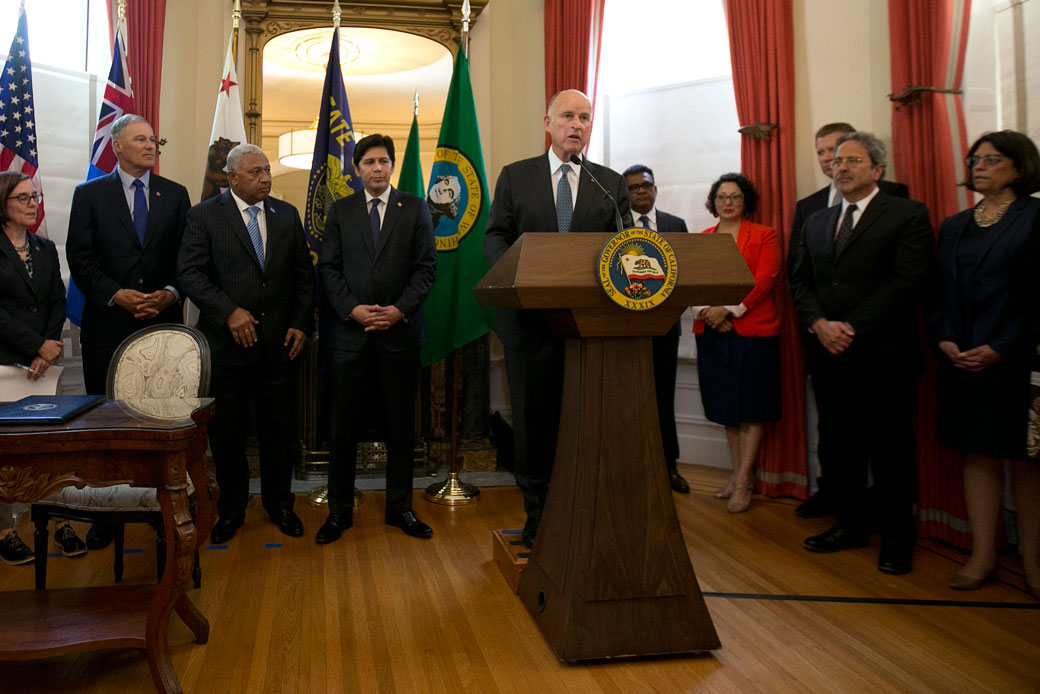 California has long been a leader in the fight against climate change. Just last year, Gov. Jerry Brown (D) signed a law that commits the state to reducing it greenhouse gas emissions 40 percent below 1990 levels by 2030, an ambitious target that puts California at the forefront of the global climate movement. Now, in the wake of President Donald Trump's decision to withdrawal the United States from the Paris Agreement, Gov. Brown and state lawmakers have a chance to continue this leadership by strengthening the state's cap-and-trade program.
In 2006, the California Global Warming Solutions Act, also known as A.B. 32, first authorized state regulators to develop a "system of market-based declining annual aggregate emissions limitations for sources or categories of sources that emit greenhouse gases." Using this authority, the California Air Resource Board (CARB) launched the state's cap-and-trade program in 2013. This program now covers nearly 85 percent of total state greenhouse gas emissions and is a key pillar of the state's fight against climate change. The program has not only driven emissions reductions—to date, almost $3.4 billion from allowance auction proceeds have been appropriated in the state to spur additional low-carbon energy and technology deployment; improve the natural environment; and assist low-income communities. Regulatory authority under A.B. 32, however, only extends through 2020, meaning that the state needs to reauthorize its cap-and-trade program for the coming decade.
With this deadline on the horizon, Gov. Brown and state lawmakers are now negotiating to reauthorize and strengthen the program for the post-2020 period. As these negotiations continue, lawmakers should keep in mind that their actions will have effects well beyond just California. The success of California's cap-and-trade program is essential for both state-level climate policy as well as supporting global momentum as the fight against climate change continues.
At the state level, strengthening the cap-and-trade program for the post-2020 period will be essential as California pursues its ambitious emissions reduction target. Under A.B. 32, California committed to reducing greenhouse gas emissions to 1990 levels by 2020. The state is on track to reach this target, with its carbon intensity continuing to decline even as its economy has grown. However, the commitment the state made last year to reduce emissions by 40 percent compared to 1990 levels by 2030 will require major emission reductions across a diverse set of sectors, ranging from electric utilities and transportation to land use and building efficiency. A price on greenhouse gas emissions from a robust cap-and-trade program can drive these reductions by creating economic incentives for polluters to reduce emissions.
A successful reauthorization of the program will also strengthen the legal footing of cap-and-trade in California. Those looking to undermine cap-and-trade have contended that the program represents an illegal tax because the authorizing statute did not pass with a two-thirds majority required for taxes under Proposition 13. In April 2017, California's 3rd District Court of Appeal in Sacramento upheld the program, and now the state Supreme Court has declined a request for appeal, meaning allowance auctions can continue. However, a post-2020 program could face similar legal challenges under Proposition 26, which passed in 2010 and extends Proposition 13 to apply to not just taxes but also fees. Passing reauthorizing legislation with a two-thirds majority would end this risk and create greater policy certainty for the state and other subnational governments looking to California for leadership.
With the Trump administration's decision to abdicate U.S. climate leadership, California has joined a growing number of states and cities on the international stage to fight climate change. For example, Gov. Brown joined with New York and Washington state to form the U.S. Climate Alliance, which is committed to pursuing emissions reductions consistent with the goals of the Paris Agreement. Now the bipartisan alliance includes 12 states, as well as Puerto Rico. California is also a major leader in the international climate community. Together with the German state of Baden-Württemberg, California launched the Under2 Memorandum of Understanding—a commitment by subnational governments from developed and developing countries to reduce their emissions to levels consistent with limiting global warming to 2 degrees Celsius. California also recently signed agreements with China's national government and the provinces of Jiangsu and Sichuan to promote low-carbon technologies.
These coalitions and bilateral agreements will be successful only if participating members take strong local actions to reduce their greenhouse gas emissions. While California has enacted other policies to fight climate change—including a 50 percent by 2030 renewable energy standard and a low-carbon fuel standard—the existing cap-and-trade program is a key component of the state's overall climate strategy. Building on this successful program into the post-2020 period will, therefore, be a critical sign of continued leadership, while failure to unambiguously act would be a major setback to the nascent climate movement that is being driven by subnational governments in the face of a hostile administration.
Howard Marano is a research assistant for the Energy and Environment team at the Center for American Progress. The author would like to thank Gwynne Taraska for her contributions to this column.
The positions of American Progress, and our policy experts, are independent, and the findings and conclusions presented are those of American Progress alone. A full list of supporters is available here. American Progress would like to acknowledge the many generous supporters who make our work possible.
Authors Howard Marano
Research Assistant