Breaking the Wall of Climate Opposition
Breaking the Wall of Climate Opposition
What's Left in the Senate Energy Bill and Why it Still Matters
Conservative opposition may have stalled comprehensive energy reform, but the pared down bill still includes important provisions, write Daniel J. Weiss and Kate Gordon.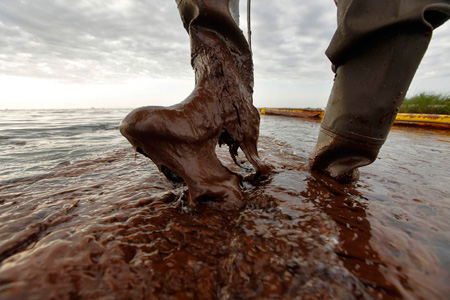 The Senate has taken Americans on an energy and climate roller coaster over the past year as Sens. John Kerry (D-MA), Joe Lieberman (I-CT), and others attempted to craft legislation that would increase investment in clean energy while cutting global warming pollution.
Yet Senate Majority Leader Harry Reid (D-NV) last week acknowledged that the Senate would not debate an energy and global warming bill because it lacked support from a super majority of 60 senators. Sen. Reid noted on July 22 that, "We know we don't have the votes [for a bill capping emissions]."
The vast majority of Democrats were ready to support a scaled-back bill that would decrease carbon pollution only from power plants while excluding coverage for transportation and manufacturing. Some Republican support was necessary for passage, yet no Republicans publicly supported this action. This included opposition from Sens. John McCain (R-AZ), Richard Lugar (R-IN), and others who had voted for previous global warming bills. Republican opposition, combined with a handful of Democratic senators who also opposed action, was enough to sink even this modest step. Rep. Rick Boucher (D-VA), a lead sponsor of the companion House energy and climate bill, observed that "Republicans pulled out of the talks, and it's just that simple…There's not another answer."
Leader Reid had no alternative but to bring a much more limited energy bill to the Senate floor, and he introduced the Clean Energy Jobs and Oil Accountability Act, S. 3663 today. This bill is no substitute for comprehensive clean energy and global warming legislation. But it does deserve Senate passage because the bill makes progress in several critical areas. It would:
Hold BP fully accountable for its oil disaster and do the same for future spills
Adopt reforms to increase offshore oil production safeguards
Invest in residential energy efficiency retrofits to save homeowners money and create jobs
Reduce oil use by investing in natural gas vehicles and electric cars
Require gas producers to publicly reveal the chemicals used in "hydraulic fracturing" to produce shale gas
Nearly all of these proposals come from existing legislation, and many of them have Republican coauthors. Here's what you need to know about the primary provisions of the "Clean Energy Jobs" bill, as well as the original bills and their cosponsors.
Oil spill response and accountability
The BP oil disaster was a 100-day nightmare that caused more than 180 million gallons of oil to flood from the ocean bottom into the Gulf of Mexico and on to American shores from Texas to Florida. This disaster is the largest ever, but it is no freak occurrence. A Washington Post analysis found "a steady stream of oil spills dumping 517,847 barrels of petroleum…into the Gulf of Mexico between 1964 and 2009…they poured twice as much as oil into U.S. waters as the Exxon Valdez tanker did when it ran aground in 1989."
The Reid bill would make BP pay for the damages from the BP catastrophe and hold big oil companies responsible for future spills. It would enhance safety requirement measures to prevent future blowouts or spills.
Primary provisions
Eliminates the existing $75 million liability cap for offshore oil spill damages, with unlimited liability for economic losses to businesses, lost governmental revenues, and other damages. Establishing an unlimited liability cap would apply to the BP oil disaster. This would create a powerful economic deterrent to the kinds of reckless cost cutting and shortcuts that BP reportedly took on the Deepwater Horizon platform.
Requires new oil spill response plans to have much greater specificity, including demonstrating the financial and technological capability of addressing spills.
Reforms the Interior Department's management and oversight of ocean energy production, including more rig inspections.
Increases the per incident spending limit for the Oil Spill Liability Trust Fund. It can currently provide up to $1 billion per oil spill for clean-up costs or damages; the bill increases this spending limit to $5 billion. The fund is currently paid for by an 8-cent per barrel fee, and the bill would raise it to 49 cents per barrel, which would generate approximately $9 billion annually.
Establishes a Gulf of Mexico Regional Citizens' Advisory Council to help with future spill prevention efforts.
Source legislation and bipartisan support
Big Oil Bailout Prevention Liability Act, S.3305: The Senate Environment and Public Works Committee passed this bill by a unanimous voice vote on June 30, 2010.
The Outer Continental Shelf Reform Act of 2010, S.3516: The Senate Energy and Natural Resources Committee passed this bill by a unanimous voice vote on June 30. Ranking Republican Sen. Lisa Murkowski (R-AK) said that the bill would "help restore Americans' confidence in our ability to safely produce our oil and gas resources, and we did it in a transparent, truly bipartisan process."
Big Oil Bailout Prevention Trust Fund Act, S. 3306: Sponsored by Sens. Robert Menendez (D-NJ), Bill Nelson (D-FL), four other Democrats, and one Independent
Reducing oil consumption and improving energy security
The BP oil disaster is yet another reminder that the United States must dramatically reduce its oil use to enhance energy security and economic prosperity. Americans currently spend $1 billion per day on oil imports, and one out of every five barrels of oil consumed in the United States comes from countries classified as "dangerous or unstable" by the U.S. State Department. The "Clean Energy Jobs" bill would reduce oil consumption via investments in natural gas vehicles and electric cars.
Primary provisions
Provides $3.8 billion for rebates to purchase natural gas cars and trucks through 2013. CAP estimates that the conversion of trucks to natural gas could save 1.2 million barrels of oil per day by 2035. The Senate Democratic Policy Committee notes that, "The natural gas industry…estimated that this program will create more than 100,000 direct manufacturing and labor jobs and more than 450,000 indirect jobs."
Provides grants for natural gas refueling infrastructure and manufacturers of natural gas vehicles.
Creates a $400 million pilot program to help up to 15 communities create electric vehicle recharging infrastructure.
Source legislation and bipartisan support
The NAT GAS Act, S. 1408: Sponsored by Sens. Robert Menendez (D-NJ), Harry Reid (D-NV), and Orrin Hatch (R-UT)
Electric Vehicle Deployment Act, S. 3442: Sponsored by Sens. Byron Dorgan (D-ND), Lamar Alexander (R-TN), and Jeff Merkley (D-OR)
Clean energy jobs and consumer savings
One of the easiest and most cost-effective ways to reduce greenhouse gas pollution is to simply use less energy in our homes. The Reid bill provides incentives for homeowners to invest in simple and effective energy savings measures that will lower electricity bills and return these savings to families' pockets. These incentives will also create thousands of jobs in energy efficiency technology sales and installation.
Primary provision
Establishes the HOME STAR Retrofit Rebate program to create $5 billion in incentives to retrofit existing homes for efficiency. It would provide grants to states to provide revolving loans, interest rate reductions, and other financial products to support widespread deployment. HOME STAR could create 168,000 jobs over two years. The program would help 3 million families save $9 billion on their electricity bills over a decade. And it would reduce global warming pollution equivalent to taking 615,000 cars off the road.
Source legislation and bipartisan support
Home Star Energy Retrofit Act, S. 3177: Sponsored by Sens. Mark Warner (D-VA) and Lindsey Graham (R-SC)
Protecting the environment
Moving to a more sustainable energy future is not just about using energy and fuel more efficiently; it is also about protecting our existing land and water resources. The Land and Water Conservation Fund provides most of the federal funds to purchase land acquisitions for conservation and recreation. It protects 7 million acres, nearly two-thirds of which are federal lands.
The LWCF is supposed to supply $900 million in revenue annually, mostly from offshore oil and gas leasing. But Congress has frequently raided the fund for other purposes. Only $432 million was appropriated to land acquisition in fiscal year 2010. And there is a $30 billion backlog in federal land acquisition needs because of funding shortfalls. The Reid bill would supply a consistent amount of funding for federal land conservation.
Primary provision
Ensures that the LWCF will have $900 million annually for FY 2011-2015 and at least $500 million in 2016. S. 3663 would guarantee $500 million annually without the need for appropriations starting in 2021.
Source legislation and bipartisan support
Land and Water Conservation Authorization and Funding Act, S. 2747: Sponsored by Sen. Max Baucus (D-MT) with 16 cosponsors, including Sen. Richard Burr (R-NC)
Hydraulic fracturing chemicals
The recent development of technology to unlock and produce "shale gas" from deep within the Earth has dramatically expanded the technically recoverable supply of natural gas. This is a cleaner, domestic fuel that can replace dirty coal to produce electricity or foreign oil to power vehicles.
The "hydraulic fracturing," or "fracking," process can produce air, water, and groundwater pollution, including toxic ingredients such as diesel fuel. Gas producers do not have to disclose the chemicals they inject deep underground to recover the gas. The Reid bill would require transparency so that governments, first responders, and citizens have the right to know about the toxic chemicals used to produce this gas.
Primary provision
Amends the Community Right-to-Know Act to require online reporting of "the chemical constituents of mixtures, Chemical Abstracts Service registry numbers, and material safety data sheets."
Source legislation
Fracturing Responsibility and Awareness of Chemicals Act, S. 1215: Sponsored by Sens. Robert Casey (D-PA) and Chuck Schumer (D-NY)
Conclusion
Comprehensive clean energy and global warming legislation stalled in the Senate because senators are opposing policies that once enjoyed bipartisan support. Sen. Reid has crafted legislation using bipartisan measures to address the BP oil disaster, reduce families' energy bills, create jobs, cut oil use, and protect the environment. Yet despite previous bipartisan support, senators are attacking provisions in S. 3663. Sen. Jim Inhofe (R-OK) opposes the Right to Know provision for fracking chemicals. He would keep the public in the dark about the toxic chemicals used in shale gas production.
The American Petroleum Institute—big oil's lobbyists—are fiercely opposed to requiring BP and other oil companies to be completely responsible for the economic damage from their blowouts and oil spills, so many senators who enjoy big oil support oppose it too, even if they helped write the provisions. Politico reports that, "Republicans have said they'd support a modest increase of the cap—perhaps up to $2 billion—or a provision to allow the president to set a liability cap. But oil companies have fought fiercely against the prospect of unlimited liability, which would require them to foot the bill for all spill damages…A spokesman for [Sen.] Murkowski said that even though she authored a key provision in the Senate bill, she will likely vote against it."
Sens. Alexander, Burr, Graham, Hatch, Murkowski, and others will hopefully vote for S. 3663 because it includes provisions that they coauthored. If so, then the Clean Energy Jobs and Oil Accountability Act, S. 3663, can clear the high 60-vote hurdle and pass the Senate. It's not the comprehensive clean energy and global warming reform that the United States needs, but it would take important steps forward toward that goal.
Daniel J. Weiss is a Senior Fellow and Director of Climate Strategy and Kate Gordon is VP for Climate Policy at the Center for American Progress.
For more information, see:
The positions of American Progress, and our policy experts, are independent, and the findings and conclusions presented are those of American Progress alone. A full list of supporters is available here. American Progress would like to acknowledge the many generous supporters who make our work possible.
Authors Daniel J. Weiss
Senior Fellow Kate Gordon
Senior Fellow