A Much-Needed Progressive Voice on the Court
A Much-Needed Progressive Voice on the Court
Statement on Nomination of Elena Kagan to the Supreme Court
Statement from John D. Podesta on President Obama's nomination of Solicitor General Elena Kagan to the Supreme Court.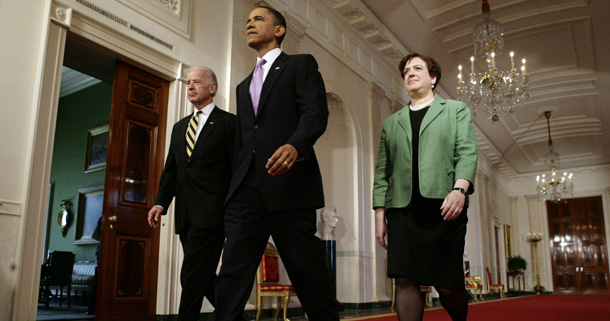 As a friend and colleague of Elena Kagan for more than 20 years, I applaud her nomination to the Supreme Court. General Kagan is a first-rate intellect, a passionate legal scholar, and a dedicated public servant—and she is both well prepared and well suited to serve on the nation's highest Court.
As my colleague in the White House, Elena Kagan worked tirelessly to expand opportunity for all Americans willing to work hard and play by the rules. She understands that the law imposes obligations on all Americans, and she will have no patience for well-heeled interest groups who believe that their wealth and influence should grant them immunity from the law.
In this sense, Kagan is a welcome contrast to the narrow, conservative voices that dominate today's Supreme Court. General Kagan forged a bipartisan consensus in favor of regulations preventing tobacco companies from marketing their products to children. Despite this consensus, a conservative 5-4 majority of the Supreme Court adopted an implausible reading of federal law to declare such regulations invalid in 2000. Unlike these conservative justices, Kagan understands that it is emphatically the province and duty of the judiciary to say what the law is, not what a powerful industry says it should be.
In other words, General Kagan will be a much-needed progressive voice on a Court dominated by conservatives who believe in one set of laws for the powerful, and another set of laws for ordinary Americans. She will make an outstanding Supreme Court justice.
John D. Podesta is President and CEO of the Center for American Progress.
For more on the nomination of Solicitor General Elena Kagan to the Supreme Court of the United States, please follow the following links:
Center for American Progress
ThinkProgress
Wonk Room
The positions of American Progress, and our policy experts, are independent, and the findings and conclusions presented are those of American Progress alone. A full list of supporters is available here. American Progress would like to acknowledge the many generous supporters who make our work possible.
Authors Founder