RELEASE: How President Obama Can Reverse America's Worsening Hunger Metrics
RELEASE: How President Obama Can Reverse America's Worsening Hunger Metrics
Washington, D.C. — In his second Inaugural Address, President Barack Obama emphasized the need to reduce poverty in the United States, and a new report released today by the Center for American Progress and the New York City Coalition Against Hunger outlines a number of executive actions that the president can take to significantly reduce child hunger.  The report, authored by New York City Coalition Against Hunger Executive Director Joel Berg, provides the first modern data-based, program-by-program report card of how the United States is falling behind in the fight against childhood hunger, and delivers a realistic plan through which President Obama can work to end the problem.
From 1999 to 2011 the number of Americans living in food-insecure households—unable to afford a consistent supply of food—rose by 61 percent, from 31 million to 50.1 million people. Over the same time period, the number of children struggling against hunger rose by 37 percent, from 12.1 million to 16.6 million.
"The facts in this report prove that hunger in America is worsening, but also that the only thing that has prevented the United States from having massive starvation—such as in the developing world—is the federal nutrition safety net. This report provides concrete, common-sense actions that President Obama can take to move the nation toward ending childhood hunger," said Berg, who is also a Senior Fellow at the Center for American Progress. "Hunger in the richest nation in the history of the world is not only morally unacceptable, but it also costs the U.S. economy at least $167.5 billion per year, in large part because of its negative impact on children."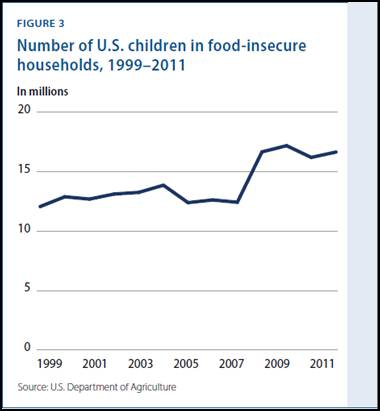 While the report indicates that, to end childhood hunger, the president and Congress must work together to ensure a full-employment economy with sufficient living-wage jobs and expand the federal nutrition safety net, it also suggests the following executive actions that the president can take on his own to protect children and families against hunger:
Sign an executive order directing key federal agencies to create food-related jobs, such as food-processing businesses, affordable and nutritious restaurants, and businesses that turn raw produce into ready-to-eat products. The executive order should also provide job training and placement services to ensure that low-income Americans are able to obtain and keep those jobs.
Sign an executive order directing all federal agencies to aid the Department of Agriculture in increasing the participation of eligible children, seniors, people with disabilities, veterans, and working families in federally funded nutrition programs, including the Supplemental Nutrition Assistance Program; the Special Supplemental Nutrition Program for Women, Infants, and Children; senior aggre­gate and home-delivered meals; school breakfasts; and summer meals.
Direct federal agencies to do more work with the Department of Agriculture to expand urban agriculture and fitness opportunities on both feder­ally owned and federally funded land.
Host a bipartisan White House Conference on Hunger, either as a standalone event or as part of a broader conference on poverty.
Lead a public service announcement campaign that features prominent Americans who have personally benefited from federal nutrition support.
Create a Dole-McGovern White House Prize, which would be awarded to citi­zens for extraordinary service in fighting domestic hunger.
Issue a "Call to Commitments" that challenges corporations, nonprofit groups, religious organizations, and state, local, and tribal governments to make formal commitments to reduce hunger and obesity.
Promote long-term, skills-based volunteer activities to fight hunger and obesity.
Appoint a public and/or private taskforce to implement and coordinate all of the above.
"The Obama administration took several important steps in the first term to mitigate the rise in child hunger, including measures in the Recovery Act to create jobs and expand nutrition assistance to families on the brink," said Melissa Boteach, Director of CAP's Poverty to Prosperity program. "However, we can't pat ourselves on the back when nearly 1 in 5 children in the United States lives in a household that struggles with hunger. This plan provides a blueprint for additional steps the administration can take in the second term to reverse the tide and ensure more families have the resources they need to put food on the table."
Read "How President Obama Can Reverse America's Worsen Hunger Metrics"
To speak with CAP experts on this issue, please contact Katie Peters at kpeters@americanprogress.org or 202.741.6285.
###