RELEASE: House Republicans Persist in Putting Our Foreign Service Officers at Risk
RELEASE: House Republicans Persist in Putting Our Foreign Service Officers at Risk
Read the full column here.
Washington, D.C. — Today, the Center for American Progress released "House Republicans Persist in Putting our Foreign Service Officers at Risk," which shows that under pressure from Republicans in the House of Representatives, Congress actually cut the Obama administration's request for improving the physical security of our embassies by nearly $300 million in the past two fiscal years. This column adds significant perspective on the tragedy in Benghazi; the role Congress played in determining the current preparedness of the State Department to cope with such tragedies; and the continuing challenge we face in reducing the threat posed to our diplomats—particularly in those nations that are struggling to build stable, nonviolent societies.
Congress has made deep cuts in two principal resources that the State Department relies on to protect overseas personnel—the Worldwide Security Program and funding for embassy security, construction, and maintenance—in the past two fiscal years, and it's threatening to make additional deep cuts in the current fiscal year. In FY 2011 Congress cut $129 million from a $3.24 billion request. In FY 2012 it cut $341 million out of the $3.5 billion requested. For FY 2013, which began this month, the House voted for a $316 million cut from the administration's $3.7 billion request; the House and Senate have not yet reconciled their differences in conference committee.
Whether additional steps would have been taken at Benghazi if the full amount requested by the State Department had been appropriated is merely speculation at this point, but clearly some upgrades could have been reprogrammed from the facilities originally scheduled if the additional $230 million requested for embassy security and construction had not been deleted from the budget. What is clear is this: Significant resources that might have gone toward hardening foreign missions against attack in both 2011 and 2012 were taken out of the budget by Congress in a decision driven largely by the Republican-led House. What is also clear is that exact misplaced sense of priority is likely to happen again this year unless Congress—and the House in particular—changes course.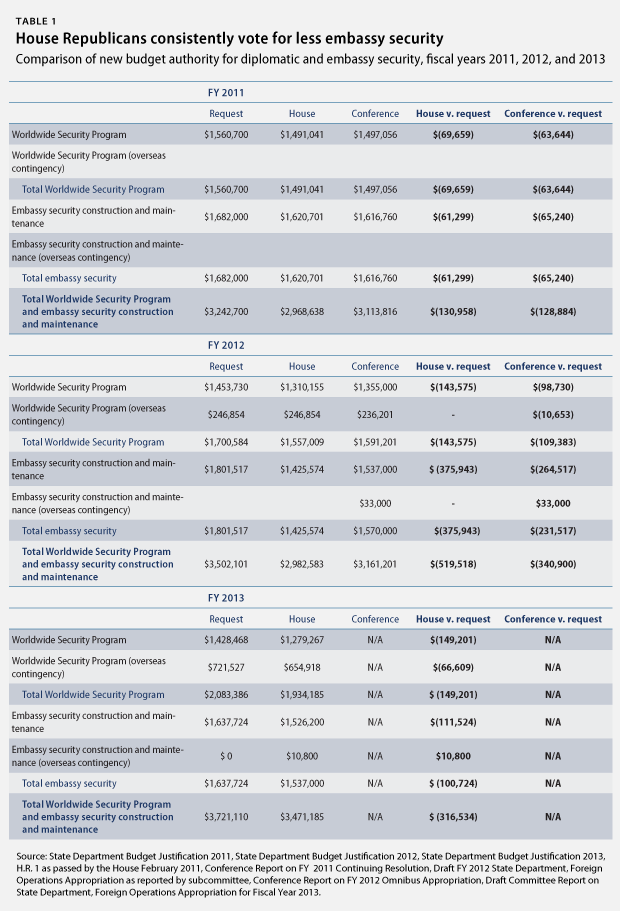 Read the full column here.
To speak with Scott Lilly, please contact Christina DiPasquale at 202.481.8181 or cdipasquale@americanprogress.org.
###