RELEASE: Congress Can Avert Dangerous Automatic Cuts and Protect Investments in Jobs and Education by Closing Tax Loopholes
RELEASE: Congress Can Avert Dangerous Automatic Cuts and Protect Investments in Jobs and Education by Closing Tax Loopholes
Washington, D.C. — Unless Congress acts, on March 1 automatic and indiscriminate spending cuts will hit key programs, costing our economy more than 1 million jobs and cutting essential services for millions of low- and middle-income families. But a new infographic released today by the Center for American Progress explains how Congress can act to avert these dangerous cuts and protect investments. The infographic, "Tax Loopholes for Corporate Jets or Investments in Jobs and Education?", illustrates how through a balanced approach to deficit reduction—an approach that eliminates wasteful tax loopholes that only benefit a wealthy few—Congress can protect critical investments that create jobs and lift up the most vulnerable Americans.
"Congress has a choice to make. They can ensure that 600,000 women and children don't go hungry, that 125,000 American families don't lose their homes, and that 7,400 teachers and staff who support students with disabilities don't lose their jobs, or they can protect an irresponsible tax loophole," said Melissa Boteach, Director of CAP's Poverty to Prosperity program. "This choice should be easy."
Just by eliminating a loophole that gives special treatment to corporate jets, for example—at a cost to taxpayers of $3.2 billion over 10 years—Congress could avert cuts that would cost thousands of jobs, hurt millions of disadvantaged students, and force hundreds of thousands of vulnerable families to lose critical nutrition and housing supports this year. Here's the math: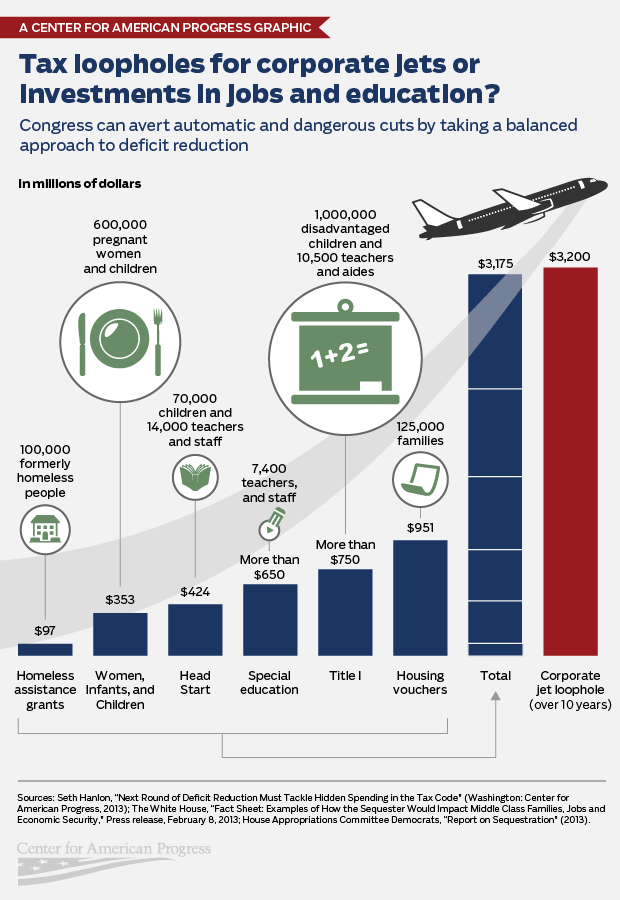 Congress has some key choices to make in the coming weeks. If they don't close the loophole for corporate jets:
600,000 women and children will lose the critical nutrition assistance they need
125,000 families will lose their permanent housing
More than 100,000 formerly homeless people, including veterans, will be at risk to go back on the streets
Students with disabilities will lose critical instruction and support from more than 7,400 teachers and staff
1 million disadvantaged students will lose critical education funding and 10,500 teachers and staff will be at risk for losing their jobs
70,000 poor children will lose their Head Start and Early Head Start slots as the jobs of 14,000 teachers and other staff are put at risk
To speak to CAP experts about this issue, please contact Madeline Meth mmeth@americanprogress.org or 202.741.6277.
Related resources:
Follow Half in Ten's #TalkPoverty campaign here.
###