RELEASE: CAP Analysis Disproves Claims about Economic Effects of Strengthened Ozone Protections
RELEASE: CAP Analysis Disproves Claims about Economic Effects of Strengthened Ozone Protections
By Daniel J. Weiss, Arpita Bhattacharyya, Raj Salhotra | August 18, 2011
Washington, D.C.—As the White House completes its interagency review of the Environmental Protection Agency's updated ground-level ozone standard to protect public health, some of the companies required to reduce their pollution continue to make exaggerated claims that negative economic impacts will occur due to these updated protections. This will be the first improvement in the science-based standard to protect children, seniors and other sensitive people from ozone (smog) in the air since 1997.
Leading the charge against these safeguards are Big Oil, coal, and utility companies who assert the protections will wreak economic havoc. These groups made similar charges when the ozone standard was improved in 1997. The Center for American Progress analyzed the economic data from the metropolitan areas affected by the 1997 standards, and found that industries' predictions did not occur.
"Industries' predictions of economic armageddon following the adoption of the 1997 ozone standard did not occur. In fact, economic growth and unemployment in the metropolitan areas newly out of compliance generally followed the national economy. This means that Big Oil and other polluters' similar, current attacks on the pending ozone standard also lack credibility," said Daniel J. Weiss, Senior Fellow and coauthor of the analysis.
"Big Oil and its allies have launched a fact-free onslaught aimed at the pending ozone standard, while this analysis shows that a stricter ozone standard will likely have little impact on the economy of the affected areas, while the air in these communitites will be safer for children, seniors, and other sensitive populations," he added.
CAP evaluated the economic growth and employment rates metropolitan areas experienced after they were put into "nonattainment" (or violation) for the first time due to the 1997 standard. The analysis determined that contrary to industries' predictions, the areas with smog levels exceeding the health standards for the first time experienced very similar economic growth to the nation as a whole. Additionally, employment rates were very similar to the national rate.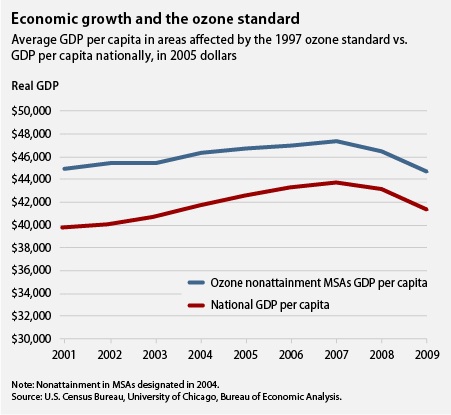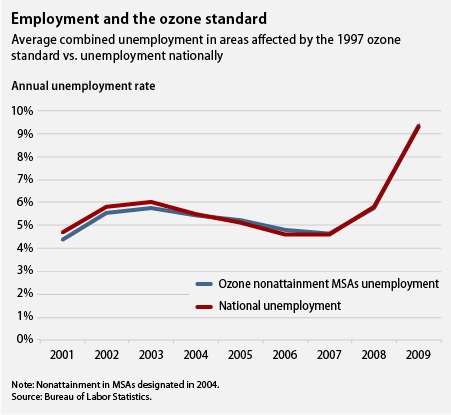 The administration is expected to finalize the smog standard very soon. Industry and business groups will undoubtedly continue their strong opposition to protecting the health of millions of Americans on the grounds that it will hurt the economy. Installing new scrubbers and controls will cost money, but will also create jobs. After the establishment of previous safeguards, industry has found ways to meet them much more cheaply than their rhetoric predicted.
History shows that the new ozone health standard is unlikely to have much negative economic impact, but will save thousands of lives and billions of dollars in lower health care costs. "The Obama administration must ignore the tired, disproven pleadings of Big Oil and other special interests, and instead set an ozone health standard based on the science to provide additional protection to all Americans," concluded Weiss.
To read the full analysis, click here.
To speak to CAP experts on this issue, please contact Laura Pereyra at lpereyra@americanprogress.org or 202.203.8689.
###