: Fortifying Our Electoral System Against Attacks

Fortifying Our Electoral System Against Attacks
Lessons Learned From the 2020 Presidential Election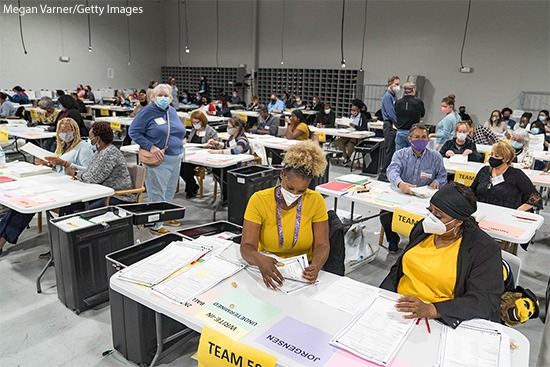 Join the conversation on Twitter using #FortifiedElections.
The 2020 election saw unprecedented attacks seeking to undermine public confidence in our elections. Central to these attacks were the repeated assertion of false claims about widespread voter fraud, concerted attempts to disenfranchise voters, and well-publicized efforts to convince state legislatures to ignore the popular vote.
With the December 8 "safe harbor" deadline for states to appoint their electors just one day away, please join the Center for American Progress for an online event with some of the nation's foremost experts in election law and governance, including Benjamin Ginsberg, Norman Ornstein, and Janai Nelson. This group of panelists will discuss the November election's unprecedented strain on the U.S. election system and its resiliency, what worked and what did not, and what we can do to fortify the system to ensure that all Americans entitled to cast a vote are able to do so easily and with full public confidence.
We would love to hear your questions. Please submit any questions you have for our distinguished panel via email at CAPeventquestions@americanprogress.org or on Twitter using #FortifiedElections.
Distinguished panelists:
Benjamin Ginsberg, Counsel to multiple presidential campaigns; former co-chair of the bipartisan Presidential Commission on Election Administration
Janai Nelson, Associate Director-Counsel, NAACP Legal Defense and Education Fund
Norman Ornstein, Resident Scholar, American Enterprise Institute; Board Chair, Campaign Legal Center
Moderator:
Mara Rudman, Executive Vice President, Policy, Center for American Progress