Bush's Free Ride to the Finish Line
Bush's Free Ride to the Finish Line
After failing to challenge Bush and Cheney's misstatements over the past eight years, it's unsurprising that the press failed to do so during his last interviews.
Part of a Series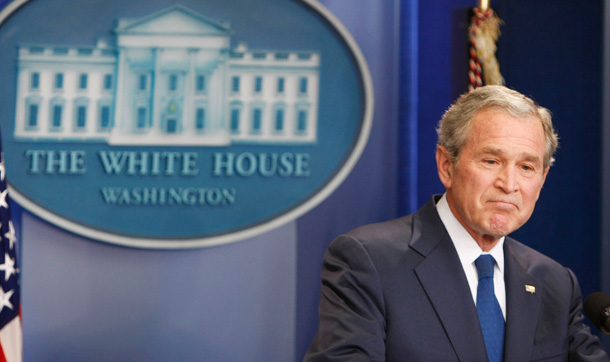 We wondered in our year-ending series about former President George W. Bush's war on the press if the mainstream media would overcome its aversion to defending their profession and raise the issue during the customary valedictory period examining Bush's presidency.
But the mainstream media did not substantively explore Bush's contempt for a free press. And that was just one of many issues that weren't raised or were glossed over, too; during Bush and Cheney's final round of interviews, the two leaders misled the press on everything from Hurricane Katrina to prewar Iraq intelligence, national security, and the economy. Their interviewers, and much of the mainstream media, did not push back during the interviews, nor point out the errors afterward.
A White House memo leaked out in early December that described the media strategy for defending Bush's legacy. One of the primary talking points was that Bush "kept the American people safe" in the seven and a half years since September 11, 2001. Bush and Cheney's final interviews prove they were intent on making that clear.
Here are just a few examples: Cheney told host Chris Wallace on the December 22 edition of Fox News Sunday that "the actions that we took, based on the president's decisions and based on some outstanding work by the intelligence community and by the military, has produced a safe seven and a half years. I think the record speaks for itself." Cheney also told CBS News White House correspondent Mark Knoller on January 7 that "the thing that I feel most strongly about is this question of how we've managed to keep the nation safe from further terrorist attacks for the last seven and a half years."
Bush repeated the same talking point with a very generous assist from Fox News' Bret Baier on the December 17 edition of Special Report. Baier asked Bush: "Do you believe that there hasn't been a terrorist attack on U.S. soil in more than seven years because of the policies your administration has implemented?" Bush responded in part, "I believe the policies that we worked with Congress on to better protect America are paying off."
This relentless, almost excessive focus on this one talking point explains an otherwise bizarre appearance that I [Eric] made on "Hardball" alongside a Bush White House advisor. The question put forth by host Chris Matthews was, "Did Bush unite or divide America?" I answered that Bush had united most of America along with almost all the rest of the world in rejecting both the style and substance of his policies. The answer from my counterpart was that he had united us because "he had kept us safe." It was a total non-sequitor, which he repeated and repeated (and repeated). It was virtually all he would say.
In fact, it's hardly clear just what evidence Bush and Cheney rely on to prove they had a hand in what did not happen. Cheney did tell PBS' Jim Lehrer that, "we were able to interrupt, block, defeat all further attempts by Al Qaeda to launch mass casualty attacks against the United States after 9-11." What attempts? Unless there are events the Bush White House opted not to disclose, we are left only with a list of several plots involving apparently amateur criminals and/or men with no means to execute their plans, such as the Miami Seven, the 2002 L.A. skyscraper plot, and the 2003 incident involving an alleged plan to blow up the Brooklyn Bridge.
We also have abundant evidence that the country is actually considerably less safe now than it was eight years ago. A 2006 report by American intelligence agencies found that the occupation of Iraq "helped spawn a new generation of Islamic radicalism," according to The New York Times, and that "the overall terrorist threat has grown since the Sept. 11 attacks."
As Media Matters notes, an April 2008 Government Accountability Office report titled "The United States Lacks Comprehensive Plan to Destroy the Terrorist Threat and Close the Safe Haven in Pakistan's Federally Administered Tribal Areas" found that "[t]he United States has not met its national security goals to destroy terrorist threats and close the safe haven in Pakistan's FATA [Federally Administered Tribal Areas]."
Also, investigative reporter Ron Suskind has written that many CIA analysts believe Al Qaeda leaders have declined to attack the United States again for strategic reasons.
None of the aforementioned interviewers mentioned these facts when Bush and Cheney claimed to have personally kept the country safe. Much of the rest of the mainstream media also passed along Bush and Cheney's comments without comment, including the Los Angeles Times, The New York Times, The Hill, and McClatchy.
Bush and Cheney also misled the press about three of the larger stains during their years in power: Guantánamo Bay, Abu Ghraib, and Hurricane Katrina.
On Guantánamo Bay, both Bush and Cheney reminded their interviewers that the men held on that military base were "unlawful combatants." Cheney told Rush Limbaugh that, "these are people whose—don't belong to any recognized military force. They don't obey the rules of warfare. You know, they're unlawful combatants." He also told CBS' Bob Schieffer that "Guantánamo is there to hold people we believe are unlawful combatants, who were captured in the war on terror, many of them members of Al Qaeda."
Bush told CNN's Wolf Blitzer that the "problem" with closing Guantánamo "is you've got a bunch of cold-blooded killers down there that, if they ever get out, they're going to come and kill Americans. And I'd hate to be the person that made that decision."
Yet nobody knows exactly what any of the prisoners held at Guantánamo have done—that's the problem. And men are clearly being held at Guantánamo who are clearly not combatants, such as the group of detainees belonging to the Uighur ethnic group from western China.
Former Vice President Dick Cheney told Washington Times executive editor John Solomon and White House correspondent John Ward in a December 17 interview that the abuse at Abu Ghraib "was not policy." As Media Matters noted, hosts Charles Gibson and Katie Couric during the January 12 broadcasts of ABC's World News and the CBS Evening News, respectively, aired uncritically Bush's January 12 statement that "Abu Ghraib obviously was a huge disappointment. Not having weapons of mass destruction was a significant disappointment. I don't know if you want to call those mistakes or not, but they were—things didn't go according to plan, let's put it that way."
But a report released last year by Sens. Carl Levin (D-MI) and John McCain (R-AZ) found that the "abuse of detainees at Abu Ghraib in late 2003 was not simply the result of a few soldiers acting on their own" and that "Secretary of Defense Donald Rumsfeld's December 2, 2002 authorization of aggressive interrogation techniques and subsequent interrogation policies and plans approved by senior military and civilian officials conveyed the message that physical pressures and degradation were appropriate treatment for detainees in U.S. military custody."
President Bush said regarding Hurricane Karina during his final press conference: "Don't tell me the federal response was slow when there was 30,000 people pulled off roofs right after the storm passed." He repeated the line in a January 13 interview with CNN's Larry King.
Neither King nor the room full of White House correspondents challenged Bush on this point. But as Media Matters notes, the Senate Committee on Homeland Security and Government Affairs concluded in a bipartisan May 2006 report that the Department of Homeland Security, "failed to lead an effective federal response to Hurricane Katrina." The Senate report further stated that "the suffering that continued in the days and weeks after the storm passed did not happen in a vacuum; instead, it continued longer than it should have because of—and was in some cases exacerbated by—the failure of government at all levels to plan, prepare for, and respond aggressively to the storm. These failures were not just conspicuous; they were pervasive." And in a February 2006 report, the U.S. House of Representatives' Select Bipartisan Committee found that "DHS was not prepared to respond to the catastrophic effects of Hurricane Katrina."
The misstatements, exaggerations, and lies during Bush and Cheney's final round of interviews are too many to catalogue in this space. (Media Matters rounds up many more). The mainstream media's willingness to pass them on is sad, but not surprising. After failing in many ways to challenge these misstatements over the course of the past eight years, December 2008 would have been an odd time to start. The job will now be left to the historians. There is plenty of work to be done.
Eric Alterman is a Senior Fellow at the Center for American Progress, a Distinguished Professor of English at Brooklyn College, a professor of journalism at the CUNY Graduate School of Journalism, and a columnist for The Nation. His seventh book, Why We're Liberals: A Political Handbook for Post-Bush America, was recently published by Viking.
George Zornick is a freelance writer in New York.
The positions of American Progress, and our policy experts, are independent, and the findings and conclusions presented are those of American Progress alone. A full list of supporters is available here. American Progress would like to acknowledge the many generous supporters who make our work possible.
Authors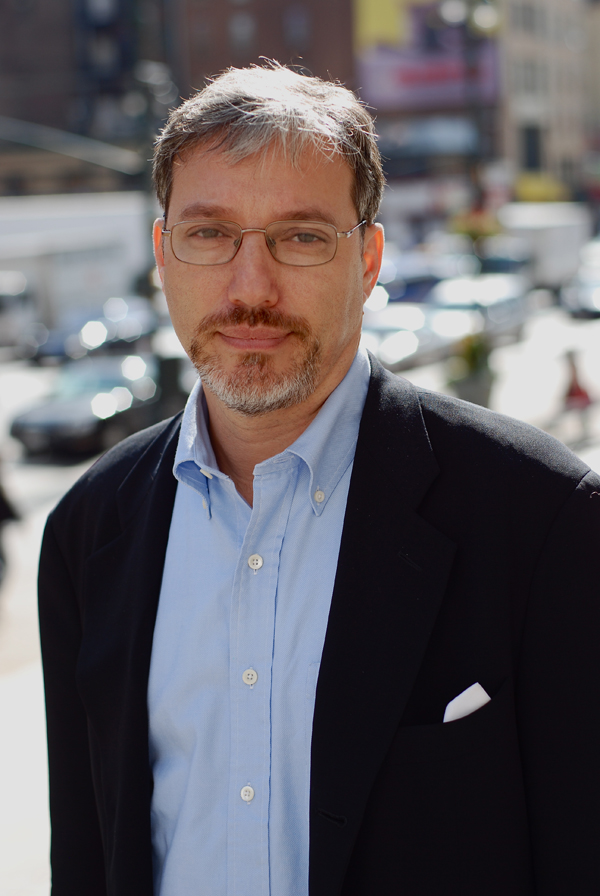 Eric Alterman
Senior Fellow
Explore The Series
Previous
Scarborough's Fare
Next
Spying on Journalists? Why the Silence?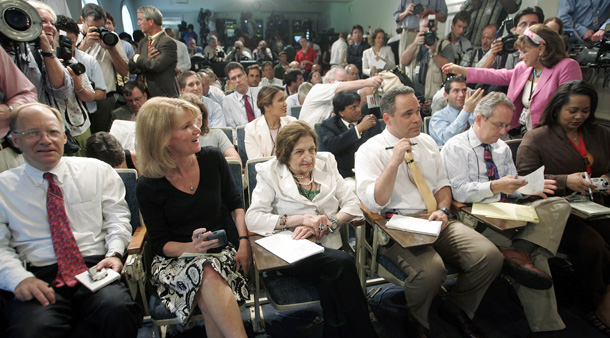 Spying on Journalists? Why the Silence?