The State of the Catholic Vote in 2012: It Ain't What It Used to Be
The State of the Catholic Vote in 2012: It Ain't What It Used to Be
Jack Jenkins looks at what it takes to court Catholic voters this election cycle.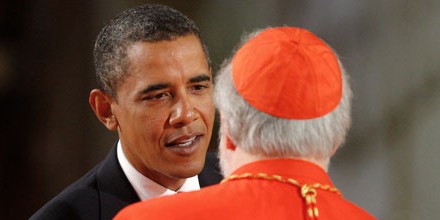 Just days before the 1956 Democratic National Convention, then-Sen. John F. Kennedy (D-MA) had a problem. Adlai Stevenson was the Democratic Party's presumptive presidential nominee, and, while rumors were spreading that the young, charismatic politician from Massachusetts could be his running mate, Sen. Kennedy was faced with a serious issue: No one thought a Catholic could be elected vice president.
Undaunted, the Kennedy team produced an eight-page memo titled "The Catholic Vote in 1952 and 1956" and quietly distributed it to various publications. It argued that not only was there such thing as a "Catholic vote" but also that Democrats could win the powerful bloc—and thereby defeat Republican presidential nominee Dwight Eisenhower—by making Sen. Kennedy the vice presidential nominee.
Sen. Kennedy did not, in fact, become Stevenson's running mate (he finished second in voting to Sen. Estes Kefauver (D-TN), a Baptist, at the convention), but the memo succeeded in helping catapult Sen. Kennedy to the presidency in 1960—and ultimately solidified the concept of the American "Catholic vote," which still makes up a quarter of the electorate, as a demographic to be courted. It also helped to introduce a relatively simple strategy for parties to win Catholic voters—namely, put a Catholic on the ticket, campaign on issues Catholics care about, and court Catholic leadership.
Today, half a century later and just days before the 2012 party conventions, efforts to court the coveted Catholic vote continue unabated. Just a few weeks ago, the Romney campaign released a religiously themed ad titled "Be Not Afraid," complete with images of the late Pope John Paul II. The next day Republican presidential nominee and former Massachusetts Gov. Mitt Romney drew cheers when he introduced his new running mate Paul Ryan as "a faithful Catholic." The Obama campaign, for its part, recently launched a "Catholics for Obama" initiative tasked with corralling the faithful.
Even as Catholics continue to capture political attention on a national scale, much has changed in the American political and religious landscapes since Sen. Kennedy's era. Thus the question: What does it mean to court the Catholic vote in 2012? What does the Catholic voting bloc look like, and does the old strategy still hold up? Here's a glance.
1. Put a Catholic on the ticket
It turns out two parties can play at the put-a-Catholic-on-the-ticket game: This year, for the first time in history, both Democrats and Republicans boast a Catholic as their vice presidential nominee—Joe Biden and Paul Ryan, respectively.
But while Sen. Kennedy garnered support from many Catholics partially by virtue of being one of the first Catholic presidential candidates, Catholic candidates in 2012 don't automatically win Catholic votes. Sen. John Kerry, a lifelong Massachusetts Catholic, lost the Catholic vote to Evangelical Christian George W. Bush in 2004. Similarly, Sen. Rick Santorum (R-PA) famously touted his conservative brand of Catholicism during the Republican primary earlier this year. But his prayerful demeanor proved more of an altar call to conservative Protestants than to Catholics; Sen. Santorum won large percentages of Evangelical votes during the primaries but lost the Republican Catholic vote to Gov. Romney by wide margins in almost every state.
Even as Catholic candidates become more acceptable to voters, the Catholic voters themselves are becoming more difficult to pin down. So the first step of this strategy, while still helpful to attracting Catholic voters, is no longer the vote-producer it once was.
2. Campaign on issues Catholics care about
Historically, conservative candidates have tended to lean on social issues—namely abortion and gay marriage—to galvanize the Catholic vote. After losing to Sen. Kennedy in 1960, Richard Nixon won over Catholics in 1972 by harping on funding for parochial schools. George W. Bush used the same tactic in 2004, when he rallied conservative Catholics around his strong opposition to gay marriage and abortion.
Yet American Catholic interests have become increasingly multifaceted over the past few decades. Not only are Catholics more ethnically diverse—unlike the overwhelmingly white Catholic population of the 1950s, almost 30 percent now identify as Hispanic—they are also more economically complex. When broken down by income brackets, Catholics roughly mirror the income distribution of the American population as a whole, with the largest group (31 percent) making less than $30,000 a year and most (51 percent) earning less than $50,000 a year.
These changes have diversified the once-unified set of "Catholic issues," leading some political commentators to begin eyeing Catholics as the bellwether demographic of the 2012 election.
Moreover, while Catholics are divided over so-called social issues, conservative talking points on abortion and gay marriage weren't enough to keep them from voting for then-Sen. Barack Obama in droves in 2008.
Also, while polls show that Catholics care deeply about social issues, they aren't focused on the issues you might expect. A recent RNS/PRRI poll found that 62 percent of Catholics support stricter gun control laws—the second-highest of any group polled, behind African American Protestants. Other polls find increasing support among Catholics for same-sex marriage, and a majority reported that President Obama—who is pro-choice and recently announced his support for gay marriage—reflected their views on social issues.
The majority of Catholics believe employers should be required to provide their employees with health care plans that cover contraception, despite the controversy between the bishops and the Obama administration over this issue.
Catholics are also especially moved by issues that affect the poor. A 2011 survey found that 67 percent of Catholics consider helping the poor to be central to Catholic identity (by comparison, only 64 percent found the belief that Mary is the mother of God to be a core Catholic belief), and Catholic leaders frequently cite the need to protect the poor as their impetus for political advocacy.
3. Court Catholic leadership
Sen. Kennedy didn't have to do much to win favor with priests and bishops, but today both parties are working harder than ever to get the nod from Catholic leadership. The Obama campaign is appealing directly to progressive Catholics in the pews with their recently launched "Catholics for Obama" initiative, lead by a veritable "who's who" of progressive Catholic scholars and elected officials. The Romney-Ryan campaign, meanwhile, is making a strong play for the religious hierarchy. Catholics for Mitt Romney is headed up exclusively by former U.S. ambassadors to the Vatican, and Gov. Romney's previously mentioned "Be Not Afraid" ad was aimed at capitalizing on the debate between Catholic bishops and the Obama administration over contraception.
But siding with the established Catholic hierarchy doesn't necessarily transfer into results on Election Day. A recent poll found that while many Catholics agree with the bishops' position on the contraception debate, the majority still support President Obama. And while American Catholic bishops remain the undisputed leaders of the Catholic Church, recent polls show that nuns actually have significantly higher approval ratings among Catholics than the all-male clergy.
Nuns are flexing their political muscle, too: They played a key role in helping pass President Obama's Affordable Care Act in 2010 and recently concluded a "Nuns on the Bus" tour that harshly criticized the Republican congressional budget proposal.
Conclusion
Simply put, the "Catholic vote" just isn't what it used to be. While remnants of 1950s Catholicism still exist, ever-growing percentages of American Catholics appear to be made of entirely different stuff. Unlike their historical progenitors, the Catholics of today are not necessarily swayed by a Catholic on the ticket. They also aren't beholden to one or two issues and aren't even all that influenced by the views of the established Catholic hierarchy. They are, instead, an unusually diverse group that sees their faith reflected in a more complicated string of issues than many give them credit for.
If and how political machines respond to this shift remains an open question. The Romney-Ryan campaign seems to be following a somewhat simplistic playbook, so far with limited success. The Obama-Biden campaign, which still enjoys the majority of Catholic support in the polls, has only just launched its diverse, clergy-light Catholic vote operation, so the impact of its efforts remains to be seen.
Both campaigns, however, should take heed: The Catholic vote, while not monolithic, seems to be more interested in socially conscious leadership—especially issues that adversely affect the poor–than in 1950s-era prayerful pandering methods.
Jack Jenkins is a Writer and Researcher with the Faith and Progressive Policy Initiative at the Center for American Progress.
The positions of American Progress, and our policy experts, are independent, and the findings and conclusions presented are those of American Progress alone. A full list of supporters is available here. American Progress would like to acknowledge the many generous supporters who make our work possible.
Authors Jack Jenkins
Senior Religion Reporter, ThinkProgress