The Perfect Gift for Father's Day
The Perfect Gift for Father's Day
Honoring Dads in Federal Legislation
The Obama administration's new approach to improving relationships between fathers and their children could just be the help many families need, writes Joy Moses.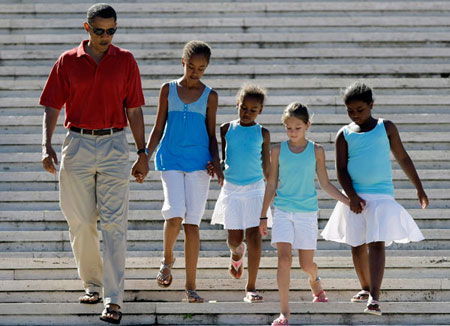 Commercials released each year around Father's Day often show eager children rushing into their parents' room early in the morning with homemade gifts for dad's special day. Like many things on TV, these notions often do not to meet reality as an increasing number of children wake up in homes in which their fathers do not live. Instead of rushing into their parents' room, they will give dad a call, send him a card, or get picked up for a scheduled visit. Some kids may have no contact with their fathers at all.
These realities of the modern family exist in every region of the country, every socioeconomic class, and each racial grouping. Relationships between fathers and their children have shifted over the last couple of decades as more dads than ever now live apart from their kids. On average, 1 in 3 children do not live in a traditional nuclear family—generally defined as two married parents plus children living under one roof. Among low-income children that figure is 2 in 3.
Some conservative policymakers during the George W. Bush administration tried to address the large numbers of low-income children living without two parents at home through legislation focused on encouraging healthy marriages and responsible fatherhood as a solution to poverty. These policymakers believed that because low-income women are less likely to be married to the fathers of their children, if they could only get women to marry these men, their families would be a lot better off financially. And maybe, they thought, we should pay a little attention to making sure those fathers become more responsible, too. This approach is inherently faulty. It fails to recognize that there are factors associated with being poor in America that make it difficult for some parents to make their relationships work, or for some fathers to have the best possible relationships with their children.
Now it's Obama's turn. As the Bush programs expire, the Obama administration has proposed a Fatherhood, Marriage, and Families Innovation Fund that could provide an opportunity to better serve families. Effectively addressing the needs of fathers and fostering healthy connections with their children brings multiple benefits that include: greater financial support for children's needs, help for mothers with childrearing, and according to some researchers, positive impacts on academic achievement and behavior.
This next generation of fatherhood and family programming should deviate from the Bush era approach by being more cognizant of the pressures poverty places on individuals, parent-child relationships, and intimate partner relationships. This would involve a more comprehensive approach to fatherhood that imbeds relationship supports, such as parenting skills and relationship and family counseling, or classes within these services that more effectively address the underlying issues putting stress on families. This includes issues related to employment, housing affordability, incarceration, and lack of legal assistance or dispute resolution services for family law matters.
For some families, these new supports may lead to the Father's Day where kids are rushing into mom and dad's room in the morning. For others, it will mean maintaining healthy connections with a dad who lives outside the home and is financially able to help support his children. Both are good, and both are based on the realities and the needs of the families involved.
Joy Moses is a Senior Policy Analyst with the Poverty and Prosperity program at American Progress.
The positions of American Progress, and our policy experts, are independent, and the findings and conclusions presented are those of American Progress alone. A full list of supporters is available here. American Progress would like to acknowledge the many generous supporters who make our work possible.
Authors Joy Moses
Senior Policy Analyst