Reproductive Rights on the Brink as Roe Turns 39
Reproductive Rights on the Brink as Roe Turns 39
Beware an Antichoice Government in 2013
Bait-and-switch tactics by conservative politicians threaten to further undermine the protections of the Supreme Court's seminal abortion rights case, writes Jessica Arons.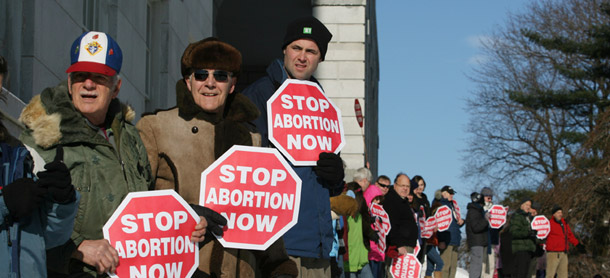 We approach the 39th anniversary of Roe v. Wade, the Supreme Court case that legalized abortion, on Sunday after a year that saw unprecedented assaults on access to abortion care and family planning services.
In the midterm elections of 2010, politicians ran on the economy, promising to produce jobs when they took office. It was on this theme that conservative candidates swept into office and sent progressives packing. This meant that abortion opponents took control of the House of Representatives, the margin in the Senate narrowed, and 15 states became fully antichoice, meaning that both their governors and legislatures opposed reproductive rights.
Thus when the dust cleared, we saw little work done on an economic agenda (unless you count attempts to dismantle organized labor). Instead, both parties were pushed in a much more socially conservative direction and reproductive rights were placed in the crosshairs as never before.
The result: A solidly antichoice House of Representatives voted eight times on abortion-related matters in 2011 and almost shut down the government because of fights over abortion and family planning. And according to the Guttmacher Institute, the states enacted 92 new restrictions on abortion services, which "shattered" the prior record of 34 new limitations in 2005. These measures included requirements to view ultrasounds before an abortion, bans on abortion after 20 weeks due to the spurious claim that fetuses could feel pain by then, and exclusions of abortion coverage from health insurance exchanges.
This year, once again, we see conservative candidates running for office promising economic reform. But if they win, we can expect more of the same culture war maneuvering when they take office. Several antiabortion bills on which the House voted last year will not get through the current Senate. But let's think about what is likely to happen if abortion opponents hold onto the House, take control of the Senate, and elect the next president.
What we can expect
Past is prelude. And based on the House's 2011 agenda, this is what we can expect a fully antichoice federal government to do in 2013.
Repeal health reform
H.R. 2, the House of Representatives' second legislative priority after funding the government's budget, was a bill to repeal the Affordable Care Act. It passed the House within two weeks of its introduction but went nowhere in the Senate.
If control of the Senate changed, however, and a president who campaigned on repeal of the Affordable Care Act were elected, then we can say goodbye to reforms that ended the practice of charging different insurance premiums based on sex, prohibited the denial of coverage for pre-existing conditions such as breast cancer, guaranteed maternity care, and ensured coverage of preventive services such as contraception, breastfeeding supports, and domestic violence screening.
Eliminate abortion coverage in private and public health insurance plans
The next bill in line was the "No Taxpayer Funding for Abortion Act," or H.R. 3, which would:
Impose a permanent, blanket prohibition on any and all federal spending for abortion care
Withhold federal credits or subsidies from private health insurance plans that cover abortion, even when the cost of abortion coverage is paid for entirely with private funds
Impose tax penalties on those who pay for abortion care or coverage (leading potentially to IRS audits of abortions)
Forbid any facilities owned or operated by the federal government and any individuals employed by the federal government from providing abortion care
Deny "home rule" to the District of Columbia by imposing all of the above limitations on the District of Columbia.
This bill also originally tried to narrow the definition of rape. It passed the House but has not yet gone anywhere in the Democratic-controlled Senate. Should antichoice forces sweep the 2012 election, this bill will likely be one of the first laws enacted in 2013.
Prohibit private insurance coverage of abortion
A more pared-down version of H.R. 3, also passed by the House in 2011, the "Protect Life Act," would virtually ban private insurance coverage of abortion in all insurance exchanges should the Affordable Care Act be implemented. This bill would also expand the circumstances in which medical providers could refuse to provide services due to their personal objections and would allow hospitals to deny emergency abortion care to a woman whose pregnancy threatens her life.
Defund Planned Parenthood and Title X
The fiscal year 2011 budget passed by the House zeroed out funding both for Planned Parenthood and Title X, our nation's public family planning program. The budget's proponents argued that government money should not go to entities that provide abortion services, but the real effect of such budget cuts would be to take away family planning services, pelvic and breast exams, screening for sexually transmitted infections, prenatal care, infertility counseling, and well-woman care for millions of low-income women.
Once again, the extreme legislation passed the House but stalled in the Senate. Indeed, the government was brought to the verge of a shutdown over funding for Planned Parenthood. It was only after antichoice leaders were successful in reimposing a ban on the District of Columbia's use of local funds for abortion care that they relented on grants to Planned Parenthood.
Deny abortion access to women of color
For several years now, Rep. Trent Franks (R-AZ) has introduced a bill titled the "Prenatal Nondiscrimination Act," which prohibits abortions based on race or sex. But in 2011, it finally got a hearing, which means it could actually receive a vote in 2012.
Claiming the mantle of civil rights and feminism (indeed, Susan B. Anthony and Frederick Douglass were added to the title last year), the bill actually invites racial profiling by abortion providers who might fear criminal sanctions for performing an abortion that is deemed to be motivated by the race or sex of the fetus.
This bill is set against the backdrop of an offensive multicity billboard campaign that depicts the wombs of women of color as unsafe and implies that children of color are endangered not because of poverty, crime, and racism, but because of abortion.
There's still work to be done
To be sure, Democrats have played their part in this assault on access to reproductive health care. Indeed, divisions in the Democratic Party over abortion led to unprecedented restrictions on private insurance coverage of abortion in the reformed health insurance market, and now most elected Democrats routinely assure voters that there is "no taxpayer funding for abortion," as if denying low-income women access to abortion were a good thing.
President Obama has made important progress on reproductive rights by overturning the global gag rule that banned foreign aid for family planning services to any organization that promotes or provides abortion care; rescinding a last-minute Bush regulation that allowed medical care workers to deny care to patients for almost any reason; funding comprehensive sex education; appointing two progressive women to the Supreme Court; and guaranteeing almost universal coverage of contraception.
But he also has banned abortion coverage from insurance pools for high-risk enrollees, allowed the District of Columbia to once again be prohibited from using local funds to pay for abortion care, and denied over-the-counter access for emergency contraception.
So regardless of who is elected president and who controls Congress, much work will need to be done in order to preserve or make progress on reproductive rights. But the writing is on the wall. If social conservatives take over the federal government, abortion opponents will almost certainly get their way. We must act now while there is still time to stop them from hollowing out what remains of Roe's protections.
Jessica Arons is the Director of the Women's Health and Rights Program at the Center for American Progress.
The positions of American Progress, and our policy experts, are independent, and the findings and conclusions presented are those of American Progress alone. A full list of supporters is available here. American Progress would like to acknowledge the many generous supporters who make our work possible.
Authors Jessica Arons
Director, Women\'s Health & Rights Program