People of Color in Virginia Voted in Support of a Progressive Agenda
People of Color in Virginia Voted in Support of a Progressive Agenda
The rising coalition of people of color propelled Gov.-elect Terry McAuliffe to victory.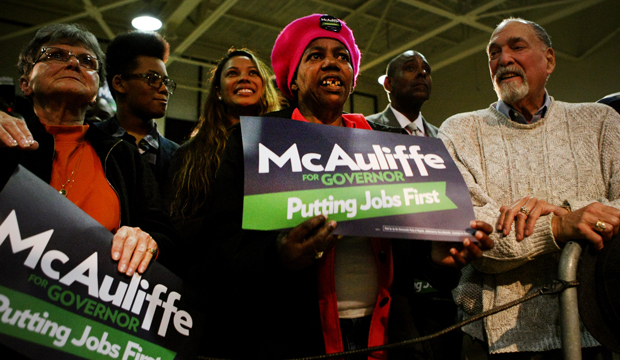 The Commonwealth of Virginia is rapidly changing in a way that reflects our nation's current demographic transformation. From 2000 to 2010, the Latino community nearly doubled in size from 4.9 percent to 8.4 percent, and the Asian American community grew from 3.7 percent to 6 percent. The African American community is the second-largest group in the state at almost 20 percent, and non-Hispanic whites represent 64.1 percent of the population.
The governor's race turned out to be much closer than expected, and the votes of people of color made a difference. While Ken Cuccinelli, the Republican nominee, won the majority of white votes—56 percent—he lost the votes of every other racial group. Gov.-elect Terry McAuliffe, on the other hand, won the gubernatorial election by 55,737 votes. According to exit polls published by The New York Times, approximately 89,400 Latinos, or 4 percent of the electorate, cast their votes on Tuesday; 22,352 Asian Americans, or 1 percent of the electorate, voted; and approximately 440,000 African Americans, or 20 percent of the electorate, voted too.
Below, we examine how these groups voted and what motivated them.
Latino voters
Latino voters came out strong in support of a progressive agenda, giving Gov.-elect McAuliffe a full 66 percent of their vote against the 29 percent who voted for Cuccinelli. It is worth noting that the Latino support for Cuccinelli was even lower than the 33 percent that Mitt Romney received in 2012. Immigration was the driving issue among Latino voters. According to the polling firm Latino Decisions, almost 53 percent of Latino voters cited immigration as their top issue. Jobs and the economy came in a close second, followed by education and health care.
Cuccinelli's embrace of a restrictionist platform on immigration did not help his cause with Latinos. His long track record against immigration reform—promoting Arizona-like policies in the commonwealth, voting against in-state tuition for undocumented students, and denying citizenship to children of immigrants—cemented his negative standing in this growing community.
Cuccinelli also touted the fact that he was the first state attorney general to challenge the Affordable Care Act in federal court, yet Latinos support health care access, given that as of 2012, approximately 35 percent of Latinos lack health care. In 2012, 62 percent of Latinos nationwide supported the Affordable Care Act.
Asian American voters
Asian Americans represent another fast-growing group in Virginia and made up 1 percent of Tuesday's electorate. According to a Latino Decisions' poll, 46 percent of Asian Americans identified immigration reform as one of the most important issues in this election. Asian Americans came out overwhelmingly in favor of Gov.-elect McAuliffe, with 63 percent voting for him, while only 34 percent voted for Cuccinelli. It is important to note the hard swing that Asian Americans are making at the national and local level, from supporting the GOP in 1992 by a 54–30 margin to voting for President Barack Obama in 2012 by a 73–26 margin.
African American voters
At 19.7 percent of the population, African Americans are the second-largest ethnic group in Virginia. African Americans showed up to the polls at a similar rate to last year's presidential election. It is also worth noting that while 90 percent of the African American vote went to Gov.-elect McAuliffe, black women's support was even higher: 91 percent of black women supported the Democratic contender. Black voters across the nation have felt under siege by voter ID laws; Cuccinelli promoted the voter ID law in Virginia requiring voters to present ID before casting a ballot. On a national radio show, he also agreed that President Obama may have stolen the election in 2012. The Affordable Care Act and Medicaid expansion is also a very important issue to African Americans, as approximately 246,000 uninsured African Americans are eligible for health coverage through the Affordable Care Act.
On Tuesday, the "rising coalition"—Latinos, African Americans, Asian Americans, and women—came together again in Virginia and propelled Terry McAuliffe to victory. They rejected the Tea Party politics that led to the government shutdown, the Tea Party's obsession with killing Obamacare, and its extreme views on issues such as immigration and women's health. Given the projected growth of communities of color in the commonwealth and across the nation, candidates who want these votes should heed this election's message.
Vanessa Cárdenas is the Vice President for Progress 2050 at the Center for American Progress. Jamal Hagler is the Special Assistant for Progress 2050 at the Center.
The positions of American Progress, and our policy experts, are independent, and the findings and conclusions presented are those of American Progress alone. A full list of supporters is available here. American Progress would like to acknowledge the many generous supporters who make our work possible.
Authors Vanessa Cárdenas
Vice President, Progress 2050 Jamal Hagler
Research Assistant