Kentucky's Medicaid Ultimatum Threatens Beneficiaries' Health
Kentucky's Medicaid Ultimatum Threatens Beneficiaries' Health
Kentucky Gov. Bevin's threat to repeal Medicaid expansion if a proposed waiver is not approved is reckless and irresponsible, especially since the waiver would reduce Medicaid enrollment, limit benefits, and raise costs for beneficiaries.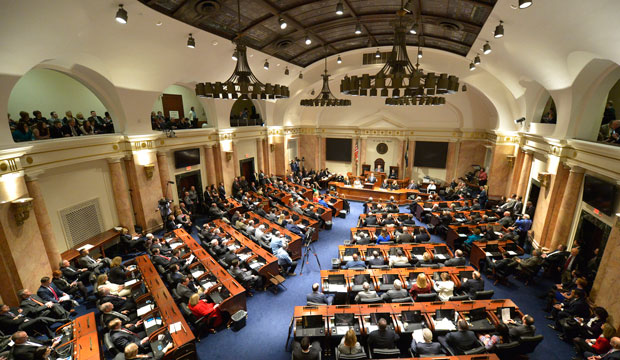 For the past few years, Kentucky has been the poster child for effective implementation of the Affordable Care Act, or ACA. The state's ACA marketplace, Kynect, has been one of the best performing in the nation, and Kentucky's Medicaid expansion covered 439,000 newly eligible people as of December 2015, according to data from the Centers for Medicare and Medicaid Services. Medicaid expansion has already led to significant improvements in rates of preventive health screenings and service usage in Kentucky.
However, recently elected Gov. Matt Bevin (R) opposes the ACA and is working to roll back health reform in Kentucky. The state is now taking action to shut down Kynect and switch to the federal marketplace, HealthCare.gov. While Bevin backtracked on his earlier plan to fully repeal Medicaid expansion, he has unveiled a proposal for a Medicaid waiver from the federal government that would make significant changes to the state's Medicaid expansion program and reduce the number of people the program covers.
Gov. Bevin's proposed waiver would harm low-income Medicaid enrollees and contains elements that the federal government cannot approve. Yet despite the fact that many of his requests are not allowable, the governor has threatened to end expansion entirely if they are not met.
Medicaid expansion is working, and it is popular
Gov. Bevin argues that Medicaid expansion is financially unsustainable. However, economic projections of the expansion's impact from 2014 to 2021 showed that it offers major economic benefits for the state, creating 40,000 jobs, generating $30 billion in economic activity, and having a net positive impact of more than $800 million on state and local budgets.
In addition to being successful and financially sustainable, Kentucky's Medicaid expansion is popular. A December 2015 Kaiser Family Foundation survey found that 63 percent of Kentuckians approved of Medicaid expansion. Furthermore, 72 percent said that they prefer "to keep the state's Medicaid program as it is today rather than change it to cover fewer people"—including 43 percent of Kentuckians who voted for Gov. Bevin and more than half of Kentucky Republicans overall.
As all of this makes clear, there is no pressing need to make dramatic changes to Kentucky's Medicaid expansion. Gov. Bevin's proposals are driven by ideological opposition to government-sponsored health care coverage rather than practical or economic concerns.
Kentucky's proposed waiver
Gov. Bevin's proposed Section 1115 waiver would significantly increase the complexity and bureaucratic red tape of Kentucky's Medicaid expansion in an attempt to make Medicaid more closely emulate private insurance. For example, the waiver would impose deductibles on many beneficiaries while giving them health savings accounts funded with the full deductible amount; in other words, Medicaid would fully pay these deductibles but needlessly require beneficiaries to jump through hoops. Ordinarily, Section 1115 waivers are intended to give states the flexibility to test improvements to Medicaid or the Children's Health Insurance Program, such as expanding eligibility or reforming payment and delivery systems to reduce costs. Yet in addition to adding unnecessary complexity, Gov. Bevin's proposed waiver contains a number of troubling proposals that would reduce enrollment and limit access, affordability, and benefits for those who remained enrolled.
First, the waiver would impose a mandatory work requirement as a condition for enrollment for adults without disabilities who do not have dependent children. The work requirement would increase over time, from 5 hours per week for those enrolled at least 4 months to 20 hours per week for those enrolled more than 12 months. Apart from this being inconsistent with the goals and principles of the Medicaid program, research shows that most nonelderly Medicaid beneficiaries already live in a household with either a full-time or a part-time worker. A handful of states have sought work requirements for Medicaid expansion in recent years, but the federal government has never approved them.
Second, the waiver would impose premiums on almost all beneficiaries, including those with incomes below the federal poverty level, except for pregnant women and children. In previous Medicaid expansion waivers, the federal government has not approved mandatory premiums for enrollees who earn less than 50 percent of the poverty line and has rejected state requests to penalize people who live below the poverty line for not paying their premiums. Research shows that premiums reduce enrollment and access to care among low-income Medicaid enrollees, many of whom struggle to afford such payments each month. Under Kentucky's proposed waiver, beneficiaries who live above the poverty line and fail to pay their premiums on time would be disenrolled from coverage and locked out of re-enrolling for six months, while those who live below the poverty line and do not pay would be charged other forms of cost sharing to access health care services. And in a new and unprecedented step, these premiums would escalate over time for enrollees living above the poverty line, increasing each year of enrollment until the fifth year. The explicit rationale for this escalation is to nudge people out of the Medicaid program over time, effectively imposing a penalty for poverty.
Third, the waiver would eliminate vision and dental benefits for most adult Medicaid expansion enrollees. In order to access these services, they would be required to perform community service or certain wellness activities. Furthermore, the waiver would eliminate nonemergency transportation benefits for most enrollees. These services help beneficiaries attend medical appointments and are particularly important in rural areas with fewer transportation options. The waiver also would eliminate retroactive coverage for most new enrollees; ordinarily, when people newly enroll in Medicaid, they receive retroactive coverage for the three previous months.
Fourth, beneficiaries who fail to submit their annual eligibility redetermination paperwork—which renews their coverage—on time would be locked out of re-enrolling for six months. The federal government has never approved such a harsh penalty for missing the deadline.
These barriers to care, along with other elements of the waiver, would reduce the state's Medicaid expenditures—but only by kicking thousands of Kentuckians off their health care coverage. Examining the governor's proposals, the Kentucky Center for Economic Policy found that Medicaid would cover almost 86,000 fewer people by the fifth year of the waiver.
Proposed waiver represents an ideological crusade against anti-poverty programs
Gov. Bevin's administration has made little effort to hide the ideological motives underlying these proposals. When confronted by the wealth of data demonstrating the positive impact of Medicaid expansion, the administration simply has argued that these numbers do not matter because they are the result of a government program.
For example, the governor's administration said in a statement, "There has not been a historic drop in uninsured—this is misleading. Medicaid is not health insurance—it is a benefit program like SNAP (food stamps) or TANF (Temporary Assistance for Needy Families). … What we have seen is a historic rise in people on taxpayer-funded Medicaid." Similarly, Gov. Bevin in an interview characterized Medicaid beneficiaries as "completely dependent on the government" and thus lacking "dignity," which he said that his proposals would restore.
In reality, of course, Kentucky's uninsured rate has dropped more than 60 percent, from 20.4 percent of Kentuckians being uninsured in 2013 to just 7.5 percent in 2015. More than 400,000 people are now receiving quality, affordable health coverage from Medicaid expansion.
The underlying reasoning behind such statements—and behind the governor's proposals—is that government assistance is bad and that receiving it constitutes a personal or moral failing. Gov. Bevin is entitled to such beliefs. Luckily for his constituents, however, the federal government is required to follow different principles when approving Medicaid waivers: those of improving coverage and access to affordable health care for low-income people.
Some of these proposals cannot be approved
The U.S. Department of Health and Human Services, or HHS, has clearly communicated that it cannot approve Kentucky's waiver, at least not in full. Several of the proposals are incompatible with Medicaid's goals and thus are ineligible for approval under HHS' waiver authority.
As HHS explained in a statement on the proposed waiver, "Among these principles [of Medicaid access and affordability], states may not limit access to coverage or benefits based on work or other activities, nor may they impose premiums or cost sharing that prevent low-income individuals from accessing coverage and care." Similarly, in an April 2016 letter to Arkansas Gov. Asa Hutchinson (R), HHS Secretary Sylvia Mathews Burwell confirmed that the federal government could not approve a waiver imposing work requirements. Just days ago, HHS rejected a request from Indiana to impose a six-month lockout period for beneficiaries who do not file their annual redetermination paperwork on time, saying that it would not be "consistent with the objectives of the Medicaid program."
Worryingly, however, Gov. Bevin has threatened to repeal Medicaid expansion completely if HHS does not approve his proposed waiver. He has framed this as HHS' choice and claims that the burden of sustaining the expansion is now on HHS.
This is flatly untrue. There is no automatic mechanism that would end Kentucky's Medicaid expansion if HHS rejects the waiver application or only approves more-limited changes. Rather, Gov. Bevin would have to act separately to repeal expansion. Such a decision—and its devastating consequences for more than 400,000 Kentuckians—would be Gov. Bevin's alone.
Instead of issuing reckless ultimatums that threaten the health and financial security of low-income Kentuckians, Gov. Bevin should take a more responsible approach and build on the historic successes of health reform in Kentucky.
Thomas Huelskoetter is the Research Associate for Health Policy at the Center for American Progress.
The positions of American Progress, and our policy experts, are independent, and the findings and conclusions presented are those of American Progress alone. A full list of supporters is available here. American Progress would like to acknowledge the many generous supporters who make our work possible.
Authors Thomas Huelskoetter
Policy Analyst