Feast and Famine in House Farm Bill
Feast and Famine in House Farm Bill
House Leadership Fund New Agribusiness Subsidy by Slashing Supplemental Nutrition Assistance
Donna Cooper calculates that the legislation would eliminate 19,000 jobs and deprive low-income Americans of nearly 1 billion meals in 2014, increasing poverty across our nation.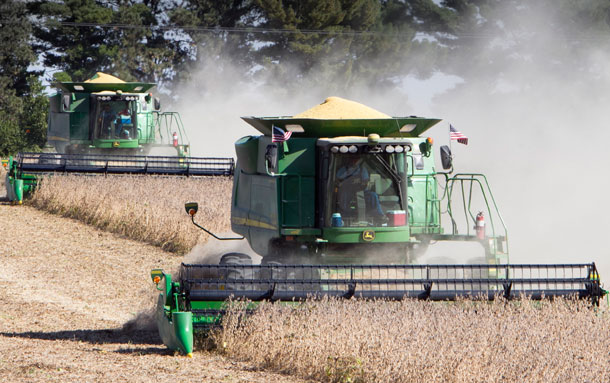 The Republican leadership in the House of Representatives is putting their version of the Farm Bill up for a vote this week in the House Agriculture Committee. The bill provides record levels of spending—an eye-popping $9.5 billion over 10 years—for an entirely new agribusiness subsidy under the guise of crop insurance. The bill finally ends the antiquated and highly suspect crop subsidies to help pay for the massive new crop insurance program, yet the bill slashes $16 billion from one of the most effective antipoverty programs in our nation, the Supplemental Nutrition Assistance Program, to fund the new insurance spending.
A cut of this magnitude means that at least 2 million families will lose access to the program. All told, about 1 billion fewer meals will be available to low-income families each year—meals that are a bargain for taxpayers at about a $1.60 a meal—as well as a basic responsibility for our society.
With nearly 45 million Americans relying on this program—85 percent of whom are living on incomes below the federal poverty line of $23,350 for a family of four—this cut is a cruel move that deprives our most needy fellow citizens of the most basic "hand up" to better themselves and their families. What's more, cuts of this magnitude could have real consequences for our nascent economic recovery, according to the U.S. Department of Agriculture, which calculates that each dollar of supplemental nutrition assistance benefits create $1.79 in increased economic activity.
Indeed, the vote, set for Wednesday, is not just a hunger creator, it's a job killer. The Center for American Progress recently found that nearly 14,000 jobs are sustained by every $1 billion spent on supplemental nutrition assistance. The Congressional Budget Office estimates that the bill will mean a $1.3 billion cut in nutrition programs cuts in 2014. A cut of this magnitude would cause an estimated 19,000 hard-working American to lose their jobs.
An estimated 1.5 million Americans are currently employed in part because of federal spending on supplemental nutrition assistance for our neediest families—workers who may well have to apply for unemployment insurance if this spending cut is enacted. They cannot afford to lose their jobs, but the consequences are predictable. This short-sighted budget cut proposal from the House Republican leadership is likely to drive up the cost of the unemployment insurance program, and will most certainly cause our national poverty rate, already more than 15 percent, to rise.
America's "hunger bill"—the cost of avoidable illness due to poor nutrition and poor education outcomes due to hunger—is already over $165 billion. A Congress concerned with jobs, the federal budget deficit, and the well-being of hard-working families would reject this bill and send the House Agriculture committee back to the fields to find the seeds of a final bill that will help all Americans grow and prosper.
Donna Cooper is a Senior Fellow at the Center for American Progress
The positions of American Progress, and our policy experts, are independent, and the findings and conclusions presented are those of American Progress alone. A full list of supporters is available here. American Progress would like to acknowledge the many generous supporters who make our work possible.
Authors Donna Cooper
Senior Fellow