Creating Demand and Jobs by Reducing Student Debt Burdens
Creating Demand and Jobs by Reducing Student Debt Burdens
Job Creation Strategies That Work
Congress can inject billions into the economy and boost employment by modifying the Department of Education's student loan rebate program, says Jordan Eizenga.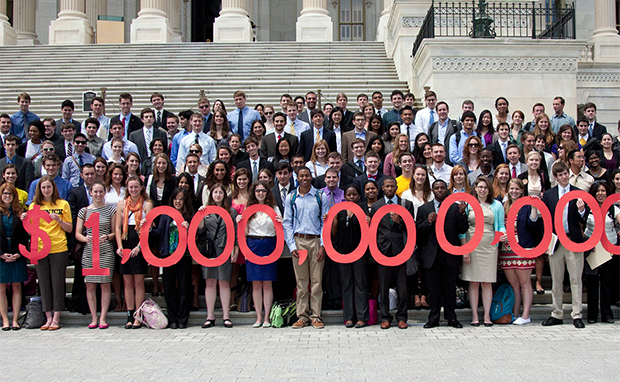 Our goal in this series is to offer job creation ideas that can fit squarely within the fiscal bounds of the political climate today in Washington. Some of our ideas will require additional federal spending, but all of our proposals are well within the financial means of the federal government. Others don't cost anything. All would create jobs.
And jobs are sorely needed. The U.S. economy has gained more than 1.1 million jobs since the labor market hit bottom in September 2010. Yet, we still have almost 7 million jobs fewer than when the recession started in December 2007. In 2009, we laid out a set of initiatives that would generate strong job creation. But after taking aggressive action in 2009 to end the Great Recession and start the economy growing anew, policymakers in Washington today are unwilling to embrace major job creation initiatives.
This week, Center for American Progress Economic Policy Analyst Jordan Eizenga presents an idea to stimulate the economy and create jobs by relieving student debt burdens—an idea we believe could be achievable in Washington.
What if I told you Congress could reduce student debt burdens, inject billions of dollars into the economy, create jobs, and do so without it costing a fortune to the federal Treasury? Well, Congress can do just that by expanding and modifying the Department of Education's existing student loan rebate program.
Currently, 65 percent of all college students take out some form of debt for education-related expenses. The average debt level of students at the time of graduation is over $24,000. This amounts to average monthly loan payments of approximately $250 over 10 years. Clearly, these households are in a lot of debt, which is constraining spending and holding back our economic recovery.
The Department of Education offers an interest rebate program for borrowers who make their first 12 monthly payments on time to help reduce student debt burdens and promote on-time repayment. Currently, the program is only eligible for borrowers in the federal direct loan program and not for the millions of individuals who borrowed through other federal student loan programs. What's more, its effect is relatively meaningless to borrowers because the rebate is applied over the life of the loan and not all at once, reducing monthly payments by less than $3 on average.[1]
Congress can provide an average increase of approximately $345 in disposable income for student debtors if it temporarily expands eligibility for the rebate program to nondirect student loans that it guaranteed and converts the rebate to an upfront, lump sum payment. And Congress could offer student debt holders who previously lost out on the rebate a second chance to receive it given the havoc the financial crisis wreaked on millions of Americans over the past four years.
The rebate will not be a free lunch, however. Borrowers that fail to make their payments on time will see the rebate added back on to their monthly payments. For this reason, the rebate should also help induce on-time payment. This saves the federal government money by helping reduce default rates.
There are also additional steps Congress can take to create demand by reducing student debt burdens. For instance, Congress can extend the grace period during which recent graduates are not required to make payments from the current standard of 6 months to 12 months. Interest will still be capitalized on loans during this time, but the extended grace period will give students more time to find work without having to worry about making student loan payments. An extended grace period seems all the more reasonable with unemployment at an all-time high for recent college graduates.
This proposal's central benefit is that it will create jobs by creating demand. The rebate and the extended grace period will increase the disposable income and spending power of student debt holders, thereby boosting economic activity and employment growth, creating an estimated 24,000 jobs. We estimate that the rebate alone will inject $2.4 billion into the economy and the extended grace period should free up $5.5 billion that would ordinarily go toward student loan payments. Both of these mean increased demand and more income for businesses that they can use to make investments and hire employees.[2]
To be sure, the proposed changes will not alone create enough jobs to generate full employment. But it can be part of a series of initiatives that aim to achieve that end. And given that the bulk of this proposal does not involve new spending, we estimate the 10-year cost of the proposed changes to be less than $2 billion and would be offset by increased receipts from lower default rates. Clearly, this proposal is well within Washington's means.
So look no further than the tens of millions of Americans with student loans if you're searching for a sensible and simple way to help provide fuel to the economy and create additional jobs. After all, they could certainly use some help.
Jordan Eizenga is a Policy Analyst at American Progress.
See also:
Endnotes
[1] Based on author's calculations using data from finaid.org.
[2] Based on author's calculations using data from finaid.org.
The positions of American Progress, and our policy experts, are independent, and the findings and conclusions presented are those of American Progress alone. A full list of supporters is available here. American Progress would like to acknowledge the many generous supporters who make our work possible.