Children Fleeing Central American Violence Need Access to Lawyers
Children Fleeing Central American Violence Need Access to Lawyers
The United States should provide legal representation for Central American child refugees, many of who have legitimate claims for relief. Doing so would be cost effective and reduce the backlog in immigration courts.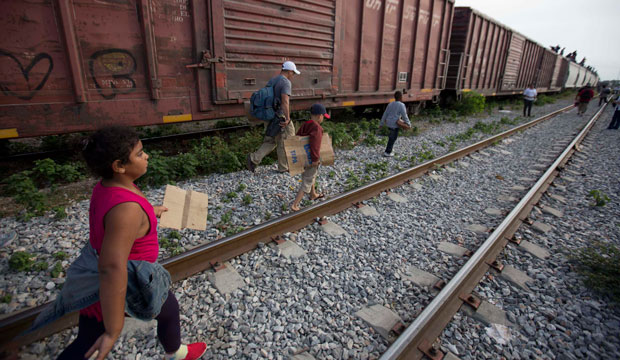 In 2008, 15-year-old Wilmer Villalobos Ortiz fled his native Honduras. The previous year, the 18th Street Gang that controlled his neighborhood tried to recruit him and threatened him with death if he refused. Ortiz's journey to the United States included a month and a half riding on the infamous trains known for their dangers and perils that snake through Central America and Mexico to the U.S. border. Once in the United States, Ortiz was apprehended and placed in immigration detention and then in foster care as his case made its way through the backlogged immigration courts. Ultimately, Ortiz was lucky enough to have a pro bono attorney, who helped him understand the court proceedings, win his case, and gain permanent U.S. residency. Most children who flee violence in Central America by coming to the United States are not as fortunate.
It is difficult to understand why a country that provides lawyers to anyone accused of a crime does not guarantee counsel to undocumented immigrant children, who have—by definition—violated a civil offense. Less than one-third of children in pending immigration cases have been able to secure legal representation. Because many of these children have legitimate protection cases, and because they face a much better chance of winning their cases when they have lawyers, having legal representation is in many instances a matter of life and death.
The United States has a moral and a legal obligation to listen to the claims of all unaccompanied children, many of who may qualify for humanitarian relief. Moreover, providing legal representation for children is a cost-effective policy that would reduce the amount of time it takes to have their cases heard.
Children are almost five times more likely to win their cases when they have counsel
The Transactional Records Access Clearinghouse at Syracuse University found that 9 out of 10 children were ordered deported when they appeared alone in court without representation. By contrast, nearly half—47 percent—of children who had representation won their cases. Furthermore, children with counsel appear at immigration hearings 92.5 percent of the time; they are far less likely to fail to appear for proceedings, a concern voiced by some lawmakers. Providing these children with lawyers undoubtedly increases their chances of remaining in the United States, but returning them to their home countries without a full and fair hearing would mean sending them back to the violent conditions that they fled in the first place. Simply put, it is impossible to provide a full and fair hearing without first providing legal counsel.
Children have legitimate claims for protective status
The fact that only one-third of unaccompanied children currently have legal representation during immigration proceedings—given the adversarial nature of the process—is a serious concern. Many of these children speak little to no English and have limited to no understanding of the proceedings; they are in no position to defend themselves in court. One boy in Los Angeles held a teddy bear in his arms for comfort during his court hearing, while a toddler in a Texas courtroom wet his pants when he faced the judge in black robes who would soon decide his fate. Unaccompanied children, some as young as toddlers, have faced significant trauma before and during their journeys to the United States, including sexual assault. The last thing they need is yet another fearful experience.
Moreover, a number of organizations have confirmed that many of these children have viable claims for protection, making the need for a legal representative to explain and navigate the process even more important:
The Refugee and Immigrant Center for Education and Legal Services, or RAICES, found that 63 percent of the children it interviewed at the government's temporary shelter facility at Lackland Air Force Base in San Antonio, Texas, would be eligible for protection and therefore allowed to stay in the United States. This group's opinion matters, as over the past 20 years, RAICES has a 98 percent success rate in determining immigrants' eligibility for relief.
The U.N. High Commissioner for Refugees interviewed more than 400 unaccompanied minors in 2013 and found that 58 percent of them "raise international protection claims"—shorthand for being eligible for refugee status.
Representation would be cost effective and speed up immigration proceedings
Giving unaccompanied children representation in court is not just sound policy—it would also save taxpayer dollars in the long run, while at the same time speeding up immigration proceedings. Both the House Republican and Senate Democratic plans to address the child migrant crisis include increased funding to hire more immigration judges, and for good reason: The U.S. immigration courts currently face a backlog of more than 375,000 cases.
On average, it takes 589 days to have an immigration claim heard. More than half of all immigration cases feature at least one delay, with each delay adding about 20.5 days to each case. Furthermore, many individuals without legal representation request delays in order to obtain counsel, so merely providing representation would shorten the amount of time it takes to hear their claims by 13 days apiece, according to NERA Economic Consulting. Shortening the process means those with legitimate claims would be able to get on the path to obtaining permanent legal status quicker, while others could return to their home countries in a more expeditious manner.
NERA finds that providing representation to undocumented immigrants who do not have the resources to pay for their own counsel—from the immigrant's first court appearance all the way through the proceedings—would cost the United States $208 million per year. But because having legal counsel significantly decreases the amount of time it takes to adjudicate a case, such a program would pay for itself in the long run. In particular, the government would save close to $174 million per year in detention costs, as immigrants would have their cases resolved in a quicker fashion. An additional $31 million to $34 million per year in other savings would also be realized, including a reduced need for transportation, foster care, and legal orientation programs. Overall, NERA finds that even at its lowest estimates, federal savings could cover 98 percent of the cost of a program to provide counsel to undocumented immigrants.
Unaccompanied children should also have access to Legal Orientation Programs, or LOPs, administered by the U.S. Department of Justice. Under LOPs, an attorney or paralegal meets with detainees who are scheduled for immigration court hearings to educate them on the law and explain the deportation process. A 2012 study by the Executive Office for Immigration Review found that LOPs save the U.S. Department of Homeland Security $4 in detention costs for every $1 spent on the program. Existing LOPs have shortened case processing times by an average of 13 days each, which adds up: It currently costs the government $165 per day to detain an immigrant.
Even immigration judges believe that everyone should have access to counsel. In one recent survey of 166 immigration judges, 92 percent reported that they are able to conduct immigration cases more efficiently and quickly when defendants have representation. More than half of the judges agreed that having "more quality counsel for respondents" would "most improve [their] court."
Conclusion
The United States prides itself as a resettlement country that accepts more refugees than any other nation. Giving unaccompanied children access to lawyers stands as the morally and economically sound policy. Let the United States live up to its traditional promise as a nation by giving children seeking protection the chance to find a safe place to live in America.
Diego Quezada was an intern with the Immigration team at the Center for American Progress.
The positions of American Progress, and our policy experts, are independent, and the findings and conclusions presented are those of American Progress alone. A full list of supporters is available here. American Progress would like to acknowledge the many generous supporters who make our work possible.