Celebrating AmeriCorps Week 2009
Celebrating AmeriCorps Week 2009
AmeriCorps continues to drive social innovation and give social entrepreneurs their start, writes Shirley Sagawa.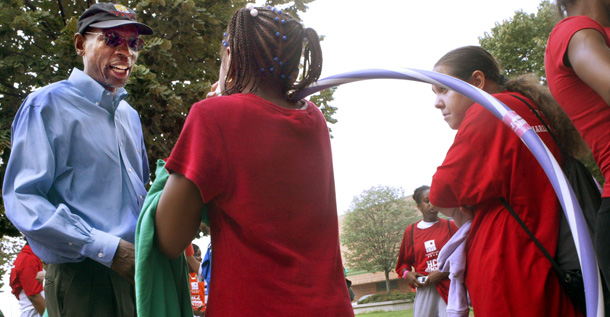 When Geoffrey Canada began building a groundbreaking new organization in the mid-1990s to break the cycle of poverty in Harlem, he needed a way to hire "the army we needed and could afford." AmeriCorps offered him that army. His "Peacemakers," as he termed the AmeriCorps members, were young adults, many from the neighborhood or places just like it. Some had college degrees, but others were in transition. Many people at the time thought these young people were part of the problem, but Canada saw them as the solution to his challenge. And they were welcomed into the public schools by teachers who were wary of outsiders but struggling to keep order in their classrooms.
Over a decade later, the Peacemakers are an integral part of the acclaimed Harlem Children's Zone. They serve in seven schools, including the Promise Academy Charter School run by HCZ and HCZ's preschool. Each Peacemaker is assigned to a classroom where they calm down kids who act out or offer one-on-one help to struggling students. They serve under the direction of the teachers who "value their support to a fault," according to one assistant principal. After morning classes, they keep recess fun and structured, and when the closing bell rings, they run the afterschool program.
The Peacemakers start their day at 7:45 a.m. and don't quit until the last child goes home at 6:30 p.m. But their efforts don't end there. They are role models in the community 24/7, and they are at the core of the organization's community-building efforts. When HCZ's corporate partners want to pitch in to beautify a park or rehab a building, the Peacemakers lead them. Peacemakers volunteer for weekend playground duty so the neighborhood children can play safely, and chaperone field trips so children can have experiences beyond their block. They're active even on Christmas Day, when HCZ teams deliver gifts to low-income children around the city who wrote to Santa hoping their wishes would be granted.
Those Peacemakers who complete their terms of service earn AmeriCorps Segal Education Awards to pay for college or graduate school. Those who do well are asked to stay for a second year. The best are invited to join HCZ's staff. Because they have been exposed to the organization's work at the ground level, "they continue to be the carriers of the culture," notes Canada. "They understand our mission." Today, 5 out of 16 senior managers and 20 additional HCZ management staff members are former Peacemakers.
HCZ's experience with AmeriCorps is a story that is largely untold, but not uncommon. Hundreds of innovative nonprofits struggling for resources have found in AmericCorps the answer to their human resource and financial needs. Habitat for Humanity, Citizen Schools, Jumpstart, and other breakthrough nonprofits have made AmeriCorps central to their delivery systems and found a feeder system for road-tested staff in the process. Thousands of other small organizations have engaged AmeriCorps VISTAs, which works specifically on initiatives to fight poverty, to help build their capacity. And hundreds of thousands of AmeriCorps alums have had their lives changed, and in many cases redirected, because of their service.
As we celebrate AmeriCorps week, it's time to recognize the potential that this federal program holds for the social innovation agenda. In addition to providing human and financial capital to cutting-edge programs, AmeriCorps gives a start to new social entrepreneurs who find that they want to take on the challenges they have witnessed after their year of service. Teach For America, one of the first AmeriCorps programs, has produced so many social entrepreneurs, including those who founded the acclaimed KIPP schools, that it has launched a special initiative to steward more of its alumni in this direction. AmeriCorps's early emphasis on outcomes, rather than defining activities through regulation, gave many of its grantees the freedom they needed to innovate. It's a strategy that more federal programs ought to use.
It is fitting that the new Social Innovation Fund authorized by the Edward M. Kennedy Serve America Act will be administered by the agency that runs AmeriCorps, the Corporation for National and Community Service. This new fund will make competitive grants to grantmakers and nonprofit organizations with strong track records to take proven programs to scale or fund promising new ideas. It holds great potential as a new way for government to support what works in partnership with other private- and public-sector funders.
While it will take years to the see the results of the new fund, we can count on AmeriCorps to serve as an engine for innovation today and for decades to come.
Shirley Sagawa is a Visiting Fellow at American Progress.
The positions of American Progress, and our policy experts, are independent, and the findings and conclusions presented are those of American Progress alone. A full list of supporters is available here. American Progress would like to acknowledge the many generous supporters who make our work possible.
Authors Shirley Sagawa
Senior Fellow