And Justice for All
Prioritizing Free Legal Assistance During the Great Recession
Joy Moses argues in a report for prioritizing free legal services during the recession and suggests who can help.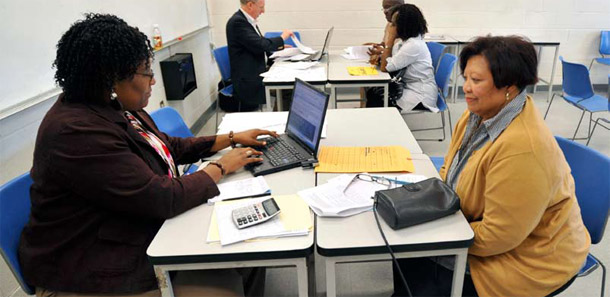 Download the full report (pdf)
Download the executive summary (pdf)
Event: Narrowing the Justice Gap
"Did you hear the one about the lawyer . . ." is a familiar beginning to jokes about a profession often labeled with negative stereotypes such as unethical, overpriced, and "ambulance chasing." For millions of low-income families, however, lawyers are individuals who assist them in securing basic necessities such as shelter, food, education, income, and physical safety. The talents of this group of service-oriented attorneys are sorely needed during the current recession as the number of people experiencing poverty expands along with their list of legal troubles.
Families are struggling with the challenges associated with the foreclosure crisis as well as with accessing government benefits, dealing with family strife caused by stress, and consumer concerns. They need attorney representation to help deal with these concerns, but representation is not always available to low-income people due to a previously existing justice gap between the haves and the have-nots that results in a shortage of good lawyers providing free legal services to the poor.
The recession is only widening this gap as avenues that provide free legal services to the poor are facing a series of financial challenges:
Although Congress increased funding in 2009 for the Legal Services Corporation—a federal agency that funds and monitors free civil legal services—the estimated per-person investment is only $6.85—the lowest in the program's more than 30-year history.
Many states and localities are operating under deficits and are struggling to balance budgets, which limits their ability to help.
Plummeting interest rates and shrinking amounts of available principal are reducing revenues for Interest on Lawyers Trust Account programs that make grants to legal aid providers.
Declines in the stock market are affecting the ability of foundations and individual donors to make contributions to legal services nonprofits.
The Center for American Progress suggests the following in order to help manage this crisis:
Congress should increase fiscal year 2010 appropriations for the Legal Services Corporation. They should match the corporation's request for $485.1 million or at the very least implement the House-passed figure of $440 million. Congress should also lift current restrictions on legal services organizations when it passes appropriations legislation because the restrictions waste resources and hinder the pursuit of justice.
Congress should pass H.R. 1728 and S. 718, which are pieces of legislation designed to expand the resources available to legal aid organizations.
States must avoid making cuts to legal aid programs while seeking creative solutions that actually increase funding for these vital services.
The private bar should continue to expand current efforts that are leading to increased amounts of pro bono service.
In short, closing the justice gap and ensuring low-income families can access needed resources will require substantial new commitments. At this point the federal government and the private bar may be best suited to contribute to the solution, but state and local governments, law schools, foundations, and individual donors can also play a role.
Download the full report (pdf)
Download the executive summary (pdf)
Event: Narrowing the Justice Gap
The positions of American Progress, and our policy experts, are independent, and the findings and conclusions presented are those of American Progress alone. A full list of supporters is available here. American Progress would like to acknowledge the many generous supporters who make our work possible.
Authors Joy Moses
Senior Policy Analyst