All Pennsylvanians Will Benefit from a Clean Slate Policy for Minor Criminal Records
All Pennsylvanians Will Benefit from a Clean Slate Policy for Minor Criminal Records
A new proposal in Pennsylvania will reduce barriers to employment, housing, education, and much more.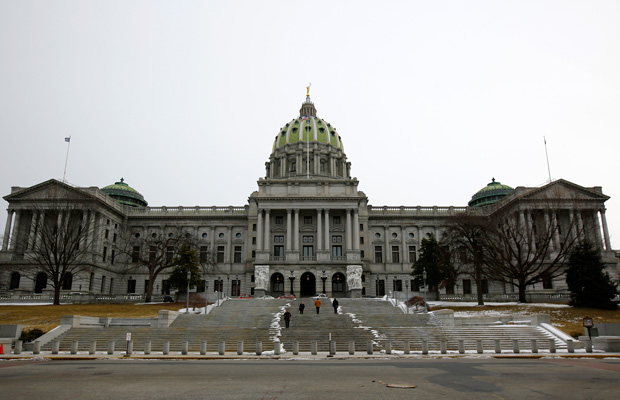 This fact sheet contains an update.
Between 70 million and 100 million—or 1 in 3 Americans—have some type of criminal record. In Pennsylvania, this translates into nearly 3 million of the commonwealth's citizens. Many have only minor records, such as misdemeanors, summary offenses, or arrests without conviction. Nonetheless, even a minor criminal record can present lifetime barriers to opportunity, putting jobs, housing, education, and more out of reach. Enabling Pennsylvanians with minor criminal records to earn a clean slate would make it possible for them to get past these barriers, get to work, and provide for their families—while strengthening the economy and enhancing public safety.
What is a clean slate?
A clean slate allows minor nonviolent cases to be automatically sealed after time has passed without subsequent conviction of a felony or a misdemeanor. This means they are only available to law enforcement, but not the public. For misdemeanors, that period is 10 years. For arrests that did not result in a conviction, there is no waiting period apart from processing time.*
A clean slate is an agreement with the person with the criminal record. If you remain crime-free for the required period of time, your case will be sealed. No petition for sealing or court order is needed.
Why does a clean slate policy make sense?
People with nonviolent misdemeanor convictions who do not commit another crime within four to seven years are no more likely to commit a crime in the future than the general population.
People who have redeemed themselves are trapped by lifetime barriers. For instance, nearly 9 in 10 employers, 4 in 5 landlords, and 3 in 5 colleges use criminal record background checks, putting employment, housing, and higher education out of reach for many. To help alleviate these barriers, 23 states and Washington, D.C., have expanded their record-clearing laws since 2009.
A clean slate is automatic. Individuals do not need to file record-clearing petitions one by one. This reduces a burdensome workload for the courts and makes it easier for those trying to find employment, housing, and other basic needs for their future success.
Who benefits from a clean slate policy? All Pennsylvanians!
People with criminal records will be able to move on with their lives, provide for their families, and become productive members of society.
Families and children of people with criminal records will benefit as their incomes increase, their housing improves, and other obstacles to family economic security are eliminated.
The criminal justice system will not be burdened with the transactional costs of many thousands of record-clearing petitions each year.
The commonwealth will save money as a result of reduced incarceration.
Pennsylvania's economy will benefit from not shutting qualified jobseekers out of the labor force, which costs the national economy $65 billion a year in lost gross domestic product, or GDP.
Most importantly, communities will be safer as a result of lower recidivism rates due to reduced barriers to successful reentry.
For CAP's full set of recommendations to remove barriers to economic security and mobility for people with criminal records, see "One Strike and You're Out" by Rebecca Vallas and Sharon Dietrich
*Update, June 5, 2017: This fact sheet has been updated to reflect the new language of Pennsylvania's clean slate bill.  
The positions of American Progress, and our policy experts, are independent, and the findings and conclusions presented are those of American Progress alone. A full list of supporters is available here. American Progress would like to acknowledge the many generous supporters who make our work possible.