A Matter of Life and Death
A Matter of Life and Death
Congress Must Act to Shore Up Struggling State Programs
A growing number of people with HIV-AIDS are languishing on waiting lists or have been cut off from state AIDS Drug Assistance Programs.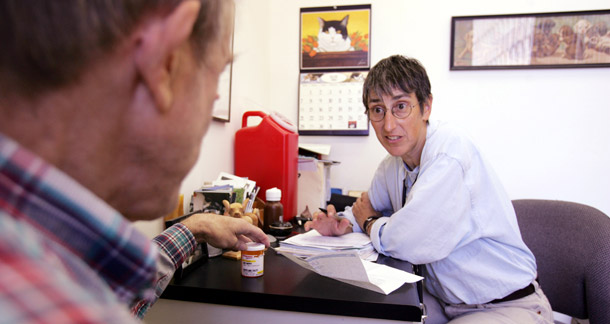 The AIDS Drug Assistance Program, or ADAP, provides life-saving medications to more than 165,000 uninsured and underinsured Americans living with HIV-AIDS. Enrollment in this federal-state program has surged to record levels over the last year. The rapid growth in participation comes largely in the aftermath of the Great Recession, which has left millions of people without jobs and private health coverage. But it is also a result of the successful expansion of federally funded HIV-testing initiatives since 2007—many newly diagnosed HIV patients have turned to ADAP because they cannot afford their medicines.
State health departments report that people enrolling in ADAP are also staying on ADAP for a much longer time. Increasingly effective—and expensive—antiretroviral drug cocktails are dramatically improving results and prolonging lives of HIV-AIDS patients. Unfortunately, this convergence of medical progress and escalating drug costs, combined with a growing need and an ugly fiscal picture nationwide, has caused states to pull back a lifeline keeping thousands of vulnerable Americans alive.
Waiting lists for the program have grown steadily all year and are now at an all-time high. According to the National Alliance of State and Territorial AIDS Directors, 3,811 people in nine states were on ADAP waiting lists as of early November 2010, up from 346 individuals on waiting lists a year earlier. Most of the clients placed on waiting lists are assisted by HIV-AIDS workers and case managers into programs provided by pharmaceutical companies. But these programs are not a long-term solution as they are only designed to help low-income clients for a year at a time. Moreover, because clients on the waitlists often face delays in receiving their medications, the risk of drug resistance increases.
Federal funding has not kept pace with the ballooning number of people in need of assistance. The federal government bears the majority of ADAP costs, with state funding and drug rebates accounting for most of the rest of the budget. Federal and state fiscal crises combined with increasing need have created the perfect storm for ADAPs, which has imperiled their sustainability. The growing waiting lists are only the tip of the iceberg. With state budgets under intense pressure from the economic downturn, states have developed other cost-containment strategies that have adversely affected even more people.
Eighteen states have tightened ADAP eligibility over the last year, making clients who otherwise would have been eligible to receive services no longer eligible for the program. In addition to lowering financial eligibility, a few states have also capped enrollment, removed drugs from their formularies, or have instituted annual expenditure caps. Two states, Ohio and Utah, have gone so far as to remove current beneficiaries from their programs. More than a dozen states are considering new or additional cost-containment measures before the beginning of the next fiscal year.
The Obama administration recently reallocated $25 million to states hit hardest by the funding crisis, but that is only a drop in the bucket. ADAP is facing a $126 million shortfall, and the administration's recent infusion will barely cover the people already on waiting lists.
Many more people living with HIV-AIDS and struggling to manage this chronic, life-threatening condition will join the waiting lists without immediate attention and additional resources for ADAP. Failure to fix the systemic funding shortfalls of this program will continue to cut off access to ADAP for people who otherwise have no means of accessing the medication they need to save their lives.
Alexandra Cawthorne is a Research Associate in the Poverty and Prosperity and Women's Health and Rights programs.
The positions of American Progress, and our policy experts, are independent, and the findings and conclusions presented are those of American Progress alone. A full list of supporters is available here. American Progress would like to acknowledge the many generous supporters who make our work possible.
Authors Alexandra Cawthorne Gaines
Vice President, Poverty to Prosperity