4 Things Communities Must Do to Become Promise Zones
4 Things Communities Must Do to Become Promise Zones
Today, the Obama administration announced the second round of Promise Zones applications. As leaders and groups come together to plan their applications, they must ensure their strategies to address poverty are community driven, comprehensive, systemic, and focused on outcomes.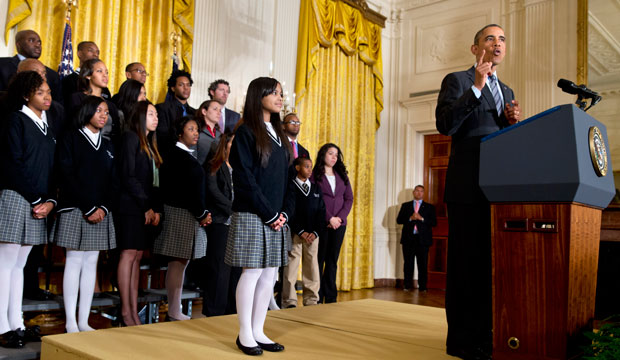 As the federal government invests in nutrition, health, education, and job-training programs that keep families out of poverty, complementary investments to strengthen high-poverty communities across the country are also important. Fortunately, over the past several years, the Obama administration has invested in low-income urban, rural, and tribal communities, and it increasingly understands what it takes to drive and support local innovation. Still, many local leaders are faced with the challenge of addressing some of the United States' most complex social problems with limited resources at their disposal.
These high-poverty communities suffer from problems such as inferior housing and infrastructure, poor health outcomes, failing schools, and little to no economic opportunity. According to analysis by Center for American Progress experts, income inequality and low social mobility place a downward drag on national prosperity, underscoring how the strength of our communities is inextricably tied to the success of the United States as a whole. The Obama administration's Promise Zones initiative understands this reality and strives to ensure that a child's ZIP code does not determine the outcomes of his or her life. The initiative aims to revitalize high-poverty communities through comprehensive, evidence-based strategies and by helping local leaders navigate federal funding.
Today, the Obama administration announced that it is accepting applications for the second round of Promise Zones designees. The deadline to submit an application is November 21, 2014.
The initiative launched in January 2014 with Promise Zones in San Antonio, Texas; Philadelphia, Pennsylvania; Los Angeles, California; southeastern Kentucky; and the Choctaw Nation of Oklahoma. These neighborhoods received priority access to federal resources to support job creation; increase economic security; expand educational opportunities; increase access to quality, affordable housing; and improve public safety. The Obama administration also hopes to extend tax incentives to private businesses for hiring employees and investing in the zones.
Over the next two years, up to 15 more communities will be designated as Promise Zones, presenting an opportunity for public, private, nonprofit, and philanthropic leaders to work more collaboratively with both one another and federal officials to leverage resources and invest in proven strategies. As leaders and groups come together to plan their Promise Zones applications, here are four key components of the program they should keep in mind.
1. Community-driven efforts
Promise Zones are place-based initiatives designed to support communities in the innovative work they are already doing. Local leaders drive the direction of the effort, while the federal government serves as a catalyst by providing critical resources, facilitating partnerships, and building capacity. For example, community and business leaders in the Choctaw Nation will focus on investing in basic infrastructure, including water and sewer systems, which have been identified as a serious impediment to economic development. In Philadelphia, leaders from Drexel University will focus on improving education quality through professional development for teachers, college access and readiness for middle school and high school students, and parental engagement.
2. Comprehensive strategies
There is no silver-bullet policy to address the many challenges facing high-poverty communities. These communities need a comprehensive set of strategies that equip youth and adult residents with the skills they need to prosper—and that ensure opportunities for success in their neighborhoods. That's why the Promise Zones initiative offers designees priority access to a range of revitalization resources through the U.S. Departments of Education, Housing and Urban Development, Justice, and Agriculture, to name a few. Applicants should have a strong vision and a well-integrated strategy to achieve it. The initiative was inspired in part by examples such as the East Lake Foundation's work to transform the East Lake community in Atlanta, Georgia—a high-poverty neighborhood that suffered from blight and crime. Local leaders developed a strategy to tackle poverty by jointly addressing housing, education, workforce development, and health services. Today, violent crime is down by 95 percent, families receiving public assistance have seen their incomes quadruple, and the neighborhood's school is the top-performing elementary school in the city.
3. Outcomes at the systems level
The Obama administration is looking to support efforts aimed at community-wide outcomes—for example, improving the educational system that serves all students in a community, rather than a single program that helps a fraction of students. The goal of the Promise Zones initiative is to take systemic action, which requires stakeholders to create common goals, follow shared metrics, and redirect resources accordingly. For example, the Los Angeles Promise Zoneis tracking 23 different indicators at the individual, family, and household levels for 10 core outcomes, such as improved academic performance in schools and the transformation of schools into community hubs where families can access their resources. This data will help the city and its partners ensure they are on track to reach their goals and course correct when necessary.
4. Data-driven results
In their proposals, Promise Zones applicants are required to describe the evidence that supports the work they plan to continue or undertake. In addition, communities must manage, share, and use data for evaluation and continuous improvement; this is critical for strategies with less supporting evidence than others. This is particularly helpful to ensure that stakeholders are focused on their shared goals. Furthermore, these data will help the federal government assess the effectiveness of local efforts and direct future funding toward the strategies that have been proven to work.
While many high-poverty communities could benefit from the Promise Zones designation, the process of bringing together the strengths and resources of a community to set clear and shared goals is critical, regardless of whether a site is ultimately selected for the initiative. As the next round of applications gets underway, communities have an opportunity to coalesce around their most intractable problems and to redefine their relationship with the federal government.
Tracey Ross is a Senior Policy Analyst with the Poverty to Prosperity Program at the Center for American Progress. For more information on strengthening the Promise Zones initiative, download CAP's report, "A Renewed Promise," and watch our conversation with Promise Zones leaders here.
The positions of American Progress, and our policy experts, are independent, and the findings and conclusions presented are those of American Progress alone. A full list of supporters is available here. American Progress would like to acknowledge the many generous supporters who make our work possible.
Authors Tracey Ross
Associate Director, Poverty to Prosperity Program