Blue-collar and white-collar are familiar jobs—from plumbers and builders to lawyers and stock traders. Now, the buzz is building for green-collar jobs, the millions of job opportunities created by the green economy. But just what are these green jobs? The slideshow below takes a look at both existing jobs that will be repurposed and expanded in the new green economy, and others that are entirely new occupations.
Next-generation Biofuels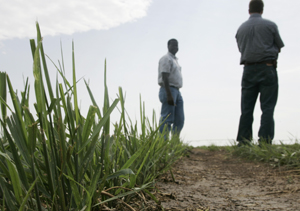 Developing next-generation biofuels will require the skills of a variety of workers throughout the chain of production, from chemical engineers and technicians to agricultural workers, industrial truck drivers, and agricultural inspectors. (AP Photo)
Mass Transit and Rail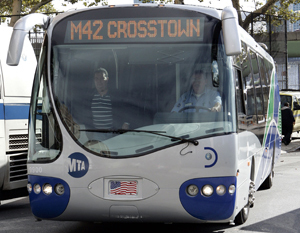 New York City is scheduled to have 1700 hybrid-electric buses on its roads by 2010. As gas prices rise and demand for mass transit increases, so will the demand for new bus drivers, civil engineers, rail track layers, locomotive engineers, rail conductors, welders, and dispatchers trained in the new technology of mass transit and freight rail. (AP Photo/David Karp)
Building Retrofits for Efficiency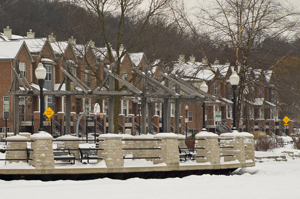 Building retrofits for energy efficiency will be a big component of the green economy. Weatherizing buildings with new windows and insulation, adjusting HVAC controls, even replacing old thermostats with programmable ones—are all steps that will reduce household energy expenditures, and create good jobs for carpenters, roofers, heating and air conditioning specialists, and building inspectors who are trained in energy efficiency techniques. (Flickr/Thomas Merton)
Smart Grid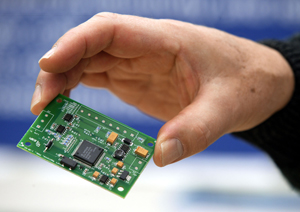 Don Hammerstrom, an engineer at Pacific Northwest National Laboratory in Richland, Wash., holds up a circuit board that was developed at the lab. These circuit boards could be an integral part of building a smart grid; the circuit board is designed to prevent power grid outages by enabling home appliances to temporarily shut down some of their functions when a power shortage is detected on the grid. (AP Photo/Jackie Johnston)
Green Roofs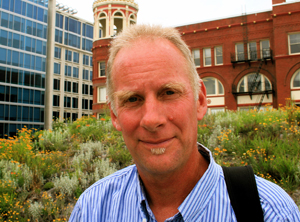 Edmund Snodgrass, seen here in front of the demonstration garden on the roof of the American Society of Landscape Architects building in Washington, DC, is an expert on choosing and growing green roof plants. The proliferation of green roofs, as well as trends toward native and water-sensitive landscaping, is already creating a new niche for landscape architects in the green economy. (AP Photo/Dean Fosdick)
Solar Richmond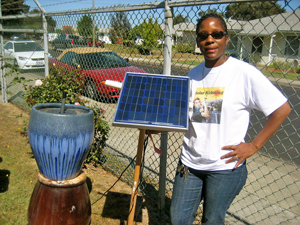 Solar Richmond's Program Manager, Angela Greene at a solar fountain workshop. The program provides low-cost and free solar system installation to low-income homeowners while training low-income residents from the community to do the work. (Flickr/greenjobsnow)
Sustainable South Bronx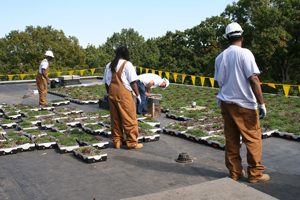 Sustainable South Bronx is another local program that moves Bronx residents who are on welfare into living wage, green-collar jobs while also greening the community itself through green roofs, solid waste reduction and disposal, and urban forestry. (Flickr/greenjobsnow)
Electric Cars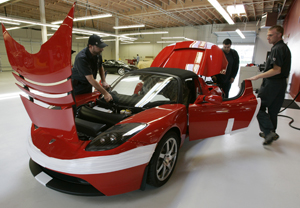 Tesla Motors employees assemble a "Roadster" in the company's Menlo Park, CA showroom. The electric carmaker employs engineers, sales people, designers, and administrative staff to run the business. (AP Photo/Paul Sakuma)
Wind Power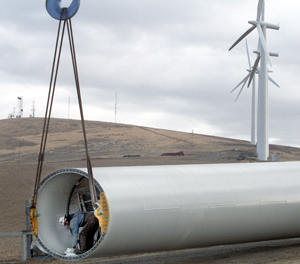 The construction and operation of wind farms will employ workers of all skill levels, from construction workers and operators and truck drivers to sheet metal workers, machinists, environmental engineers, and industrial production managers. (AP Photo/Jackie Johnston)
A recent report from the Center for American Progress and the Political Economy Research Institute proposed a $100 billion investment in green infrastructure over two years. An investment of this scale would, the study found, result in 2 million new jobs in six areas: retrofitting buildings to improve energy efficiency, expanding mass transit and freight rail, constructing "smart" electrical grid transmission systems, wind power, solar power, and next-generation biofuels.