Will Congress Block Infrastructure Spending?
Will Congress Block Infrastructure Spending?
President Obama's Defeat Is More Important than Job Creation
Donna Cooper expects congressional Republicans to block the president's latest call for infrastructure spending to boost jobs and improve our economic competitiveness.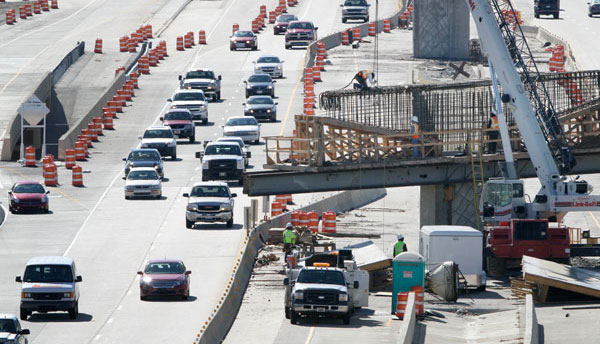 See also: Now Is the Time to Fix Our Broken Infrastructure by Heather Boushey; Not Fixing Our Infrastructure, Not Creating Jobs by Donna Cooper; Infrastructure Spending Builds American Jobs by Kristina Costa and Adam Hersh
Just as America refocused its war resources on building our nation's highway system after World War II, President Barack Obama's State of the Union address included a courageous call for Congress to redirect half of the funds formerly claimed for the war in Iraq to rebuild our nation's crumbling infrastructure. His strong pitch for putting Americans to work repairing our infrastructure is an essential element of the president's strategy to help the middle class grow and prosper.
At first glance it would appear that the president's call to invest in infrastructure should enjoy wide bipartisan support. The leadership of both parties in Congress is on record as strong advocates for rebuilding the nation's roads, bridges, rail, ports, and airports. On Fox News earlier this week, Speaker of the House John Boehner (R-OH) said he wants the president to follow the recommendations of the White House Jobs and Competitiveness Council on increasing federal investments in infrastructure (look for the transcript on the speaker's blog). And Senate Minority Leader Mitch McConnell (R-KY) is on the record saying, "Everybody knows we have a crumbling infrastructure. Infrastructure spending is popular on both sides. The question is how much are we going to spend." Senate Majority Leader Harry Reid (D-NV) and House Minority Leader Nancy Pelosi (D-CA) also strongly support President Obama's infrastructure plans.
But bipartisanship isn't always what it seems, especially when it comes to infrastructure. In 2011 Republicans in the House and Senate unveiled a new strategy that linked new infrastructure investments with divisive environmental proposals. They know this linkage is unacceptable to the president, Senate Democrats, and most of the American public. Yet congressional Republicans are making this push so they can block movement to create jobs and rebuild our infrastructure while sounding like they are in favor of policies that do both.
This is a serious claim, but the evidence is clear. In the past year, instead of rolling up their sleeves and drafting long-term highway and aviation spending bills, the House leadership cranked out a package of bills that include measures to weaken clean water and clean air protections and to restrict union organizing. They disingenuously called this a "jobs package."
In spite of the compelling evidence that federal investments in infrastructure are an effective tool for creating jobs—the U.S. Department of Transportation 2007 estimates indicated that $1 billion in highway investments can create 27,800 jobs—this "jobs package" included the House-passed fiscal year 2012 budget bill that makes deep cuts in spending for highway and other surface transportation repairs. This package of bills willfully neglects the dire state of our aging infrastructure and the need to create more well-paying construction jobs.
They haven't stopped there. While ignoring the president's very popular American Jobs Act, they've joined the all-out offensive campaign to push the environmentally dangerous Keystone pipeline project, claiming it as their solution to the jobs crisis. This project is more like a jobs pipedream. It's already three years behind schedule and may never see the light of day due to broad-based U.S. opposition to building the pipeline, including from the Republican governor of Nebraska, who opposes the pipeline route through his state.
None of this is news to the House Republicans. They are desperate to shift attention away from their failure to advance legislation to address our nation's crumbling infrastructure because they are more concerned with blocking a jobs victory for President Obama that would help him win the 2012 presidential election.
Emblematic of this strategy was the announcement in a November House leadership press conference where Speaker Boehner indicated that he intended to release a multiyear highway funding bill early in 2012 and fund it with revenues dependent on a massive expansion in oil-and-gas drilling offshore and on public lands, including in the Arctic National Wildlife Refuge in Alaska. The only problem is that the House leadership knows that this drilling-dependent approach is likely to be dead on arrival in the Senate. Just this past May, 57 senators voted against a motion to proceed to consider the House bill to permit expanded offshore oil-and-gas drilling.
If the House leadership were sincere about creating new construction jobs, then why not start by getting behind a bill that can pass both chambers so that private contractors can get to work repairing more of the 150,000 bridges that need it or the $52.3 billion in improvements needed at the nation's airports? Instead we are now on the eighth temporary extension of a federal highway bill that expired in 2009 and now only runs through the end of March 2012.
Then there's the Federal Aviation Administration funding bill. Yesterday before the president's State of the Union address, House Transportation Committee Chairman John Mica (R-FL) held a vote for the 23rd temporary extension of the legislation that will provide funding for our airport safety and construction only through the end of February 2012. These extensions enable the status-quo level of inadequate funding for infrastructure to limp along while our national assets crumble.
The House Republicans have blocked the passage of a long-term aviation funding bill for the past two years, demanding that arcane and unfair union election rules be included in the bill. As of today a compromise among all parties takes the union issue off the table. But there are many more details to work out, including the level of funding and what is funded. Given the Republican track record on passing the legislation that is needed to rebuild our infrastructure, it is premature to consider this aviation funding bill a done deal.
The House is not the only problem. Sen. Reid late in 2011 put the president's American Jobs Act, which included $60 billion to repair our schools and fund a National Infrastructure Bank, to a vote, but Senate filibuster rules that require 60 favorable votes to put a bill on the floor for consideration made moving this infrastructure funding bill impossible. After failing to reach that 60-vote threshold, Sen. Reid said, "Republicans think that if the economy improves, it might help President Obama. So they root for the economy to fail and oppose every effort to improve it."
Indeed, Sen. McConnell blocked passage of the Senate version of the Jobs Act while lambasting the president for pointing it out and blasting the Senate Democrats for not working with the House Republicans to reach a compromise. But that statement begs the question of why McConnell isn't working with his own party's leadership in the House to make sure the Senate receives a bill that has a chance of a positive vote.
The answer is clear: The Republican leadership is very concerned that responding to the American popular call for infrastructure investment will benefit President Obama politically—never mind the pain suffered by the American people and our future economic competitiveness by their failure to act. The president should not be deterred, however, by the roadblocks he faces in Congress. In his speech in Kansas this past December, he summoned the nation to redouble its commitment to an economy that lifts all boats. Echoing President Theodore Roosevelt's progressive sentiments, he said:
We simply cannot return to this brand of "you're on your own" economics if we're serious about rebuilding the middle class in this country. We know that it doesn't result in a strong economy. It results in an economy that invests too little in its people and in its future. We know it doesn't result in a prosperity that trickles down. It results in a prosperity that's enjoyed by fewer and fewer of our citizens.
Just as the creation of our middle class finds it roots, in part, in the building of our infrastructure, so too is the restoration of our infrastructure essential to the restoration of the breadth and vibrancy of America's middle class.
Donna Cooper is a Senior Fellow at American Progress.
See also:
The positions of American Progress, and our policy experts, are independent, and the findings and conclusions presented are those of American Progress alone. A full list of supporters is available here. American Progress would like to acknowledge the many generous supporters who make our work possible.
Authors Donna Cooper
Senior Fellow