Rethinking Youth Engagement Strategies
Rethinking Youth Engagement Strategies
New York City Offers Testing Ground for Public-Private Partnerships
Desmond Brown unpacks the city's new program to see what national lessons can be learned about engaging youth at risk of missing opportunities to succeed.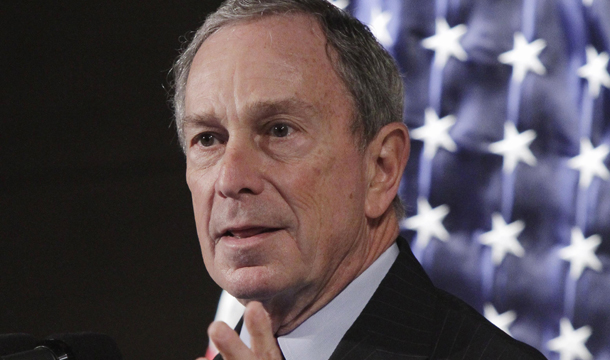 Providing a pathway for youth at risk of missing opportunities to succeed in our nation is an effective strategy to promote prosperity and break the cycle of poverty that occupies many communities across the United States. New York Mayor Michael Bloomberg last week announced a new initiative that reinforces this philosophy of youth engagement. The effort aims to address the economic challenges facing young black and Latino males across New York's five boroughs.
The program takes a unique approach by linking private resources with municipal funds to expand capacity for youth employment, education, and mentoring programs in New York City. The cost of this new initiative will be funded with $67.5 million of city funding, $30 million from the Campaign for Black Male Achievement of the Open Society Foundations, and $30 million from Bloomberg Philanthropies.
Over the next three years, this public-private partnership will invest more than $127 million in programs to help expand these kinds of opportunities across more than a dozen city agencies. The new program will attempt to tackle some of the most pervasive challenges facing young black and Latino youth, among them low employment, lack of access to social support, and debilitating involvement with the criminal justice system. All of these barriers are predictable indicators for a life of economic hardship and frequently poverty.
The new initiative draws from a recent New York City-commissioned study on barriers facing Latino and black men in the city. The survey found that the population of men ages 18 to 24 is roughly divided among whites, blacks, and Latinos, but the life experiences of these men differ greatly. Across the five boroughs black and Latino young men have a poverty rate that is 50 percent higher than white and Asian young men, and the black and Latino unemployment rate is 60 percent higher.
What's more, the social indicators are starkly different, too. Black and Latino men are two times more likely not to graduate from high school than white and Asian men. They are more likely to become teen fathers. And more than 90 percent of all young murder victims and perpetrators are black and Latino.
The report suggests the city take aggressive steps to address these rising economic and social disparities across its communities, specifically focusing on strategies to:
Reduce the achievement gap in schools by implementing targeted strategies to improve education outcomes for black and Latino youth
Reform the juvenile and criminal justice systems to better prepare youth for second chances
Connect more black and Latino young men to employment by reducing the barriers they may experience in obtaining work
Improve the social stability of young men by encouraging more fathers to be engaged
So let's examine how New York City's new strategy might play out among black and Latino youth.
The promise of New York City's new effort
The decision to develop a targeted plan to reengage black and Latino youth in New York City is one of simple economics. The city recognizes that the high level of youth dislocation within certain communities will create long-term economic burden on city resources, and at the same time lower its skilled workforce by a significant margin. Providing a coordinated path for its youth to reengage in the labor force is simply an effective business investment for the city.
The key to its effectiveness and to the efficient use of public taxpayer dollars is the public-private partnership. While public-private partnerships are not the answer to solve all of the challenges facing low-income communities, this example of partnership provides promise. It leverages resources from wealthy individuals to solve a problem that is clearly in need of attention.
The plan's public-private partnership allows the city to leverage its vast infrastructure while also utilizing private-sector accountability measures to ensure the funds are effectively targeting resources and achieving desired outcomes. The plan will include practical and actionable steps that will create a new youth-centered culture across city bureaucracy. For example, it will:
Include a requirement for city agencies to encourage and support young people in obtaining government-issued identification, the lack of which serves as a barrier to employment
Develop criteria for teen-friendly clinics that will lead to more young people being able to access appropriate health care services
Review agency policies to identify obstacles to fathers being involved in the lives of their children
Issue an executive order ensuring city agencies do not place undue barriers in their own hiring processes for people with criminal convictions unrelated to the jobs for which they are applying
All of these measures, if implemented effectively, will improve access to youth services and open doors to youth who live in some of the city's more economically isolated communities.
Across the country, youth advocates have long argued for more youth-centered strategies such as these being implemented in New York City to reduce the escalating numbers of youth who become disconnected from the job market and their families and communities each year. Indeed, the new initiative in New York City reflects some of the proposals that have been offered to the city by community stakeholders like the Community Service Society of New York. A recent report from CSSNY outlined a number of steps the city should implement to engage disadvantaged youth. CSSNY, which applauded this new initiative as a positive first step to start serving youth in a comprehensive way, estimates that more than 173,000 disconnected youth ages 16 to 24 live in New York City.
The success of the New York City model will certainly depend on the effective implementation. Yet even at its launch, this new effort from one of the nation's largest cities can help strengthen other efforts that are developing in communities across the country. Local pilots like the one in New York City provide opportunities to cost-effectively test ideas and remove inefficiencies before they are implemented nationally.
National implications of New York's efforts
The changing employment opportunities in the U.S. economy mean an increasingly limited number of good jobs for millions of low-income and underskilled young Americans. Youth unemployment has always been higher than that of other workers, but the Great Recession of 2007–2009 and the subsequently tepid economic recovery dramatically increased unemployment among youth. For white youth ages 16 to 19, the unemployment rate was 23 percent in July, but for black teens it's an alarming 39 percent.
With limited employment prospects, more youth are likely to join the ranks of the disconnected. Youth who are disconnected are separated from their family and other community institutions that provide support and guidance. This alienation harms the future economic security of individual youth but it also causes serious long-term harm to the productivity of the U.S. economy.
Developing a national youth engagement strategy is a viable and necessary approach to expand economic opportunities and cut poverty in the United States. Policymakers should create a comprehensive plan to support at-risk teens, reconnect those who are disconnected from their communities and families, and expand employment opportunities for young workers. These strategies must focus on communities and youth who face the greatest risk and are in danger of falling behind and permanently out of the mainstream economy.
This new approach should include incentives for public-private collaboration and require sufficient data reporting to ensure proper allocation of limited federal resources. This new youth-centered plan should:
Promote collaboration and accountability. Establish a youth council across the Departments of Education, Health and Human Services, and Labor to coordinate and address the challenges that vulnerable youth face. This council would be run by a national youth policy director to ensure youth have access to core resources and supports, including safe places with structured activities to grow, services to promote healthy lifestyles, and opportunities to acquire marketable skills.
Redesign workforce training. Reform the Workforce Investment Act system, specifically the Workforce Investment Board program, in communities across our country to place a stronger focus on youth ages 14 to 24. Specific benchmarks should be included in the program to address the needs of young, underskilled workers in the current economy.
Invest in sector-specific training. One emerging strategy proposed by workforce development experts is for more federal investments in sector-specific training. These types of public-private partnerships would build collaboration among local employers or industries to identify specific needs and establish training and workforce programs to meet those needs.
Invest in youth entrepreneurship. By focusing on youth entrepreneurship as part of a national youth engagement strategy, the federal government could provide small grants for startup programs that focus on youth business development and employment.
Implementing these kinds of comprehensive reforms to engage our nation's disconnected youth will present many challenges to policymakers. Chief among them will be the current culture of fragmentation in which both government policymakers, private-sector, and nonprofit stakeholders in youth engagement activities fail to structure their programs in a coordinated fashion. This is why the new youth initiative by New York City is so exciting. It bridges this gap through a public-private partnership.
Although the challenges are great, a well-articulated vision for youth engagement that outlines potential economic and social benefits of reform will help reduce these barriers. The new initiative launched in New York City offers a unique opportunity to test these youth-centered strategies in a large diverse community.
Desmond Brown is a consultant to the Center for American Progress Action Fund's Half in Ten antipoverty project.
The positions of American Progress, and our policy experts, are independent, and the findings and conclusions presented are those of American Progress alone. A full list of supporters is available here. American Progress would like to acknowledge the many generous supporters who make our work possible.