Progressives Just Made a Huge Concession to Keep the Government Open, but the Tea Party Might Shut It Down Anyway
Progressives Just Made a Huge Concession to Keep the Government Open, but the Tea Party Might Shut It Down Anyway
The Senate's continuing resolution prevents a government shutdown, but it does not avert another round of deep spending cuts.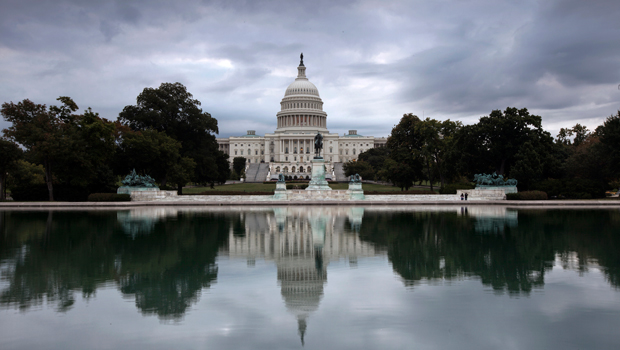 Today, the Senate passed legislation that prevents a government shutdown but does not avert another round of deep spending cuts. These new cuts are embraced by the Tea Party but are opposed by just about everyone else. Senate progressives made a huge concession by agreeing to postpone a resolution on those cuts in order to keep the government open while Congress works to avoid more unnecessary and damaging cuts. Yet despite this concession, the Tea Party's demands are so extreme that they might shut the government down anyway.
Tea Party members, such as Sen. Ted Cruz (R-TX), are trying to force a government shutdown to undermine health care reform, but there is no chance that Congress and President Barack Obama will agree to do so. The Senate deserves credit for rejecting the Tea Party's impossible demands, thus refusing to manufacture yet another crisis. A government shutdown would be a terrible outcome for the American people, and dropping the demand to undo health care reform makes a shutdown less likely.
The sideshow over health care reform only distracts from the real question of whether we will go forward with another round of massive cuts to economic investments, national security, and protections for low-income Americans. The Senate's legislation to keep the government running, called a continuing resolution, establishes funding levels that are significantly below those that were originally enacted last year. Instead, the continuing resolution is broadly consistent with the additional across-the-board cuts known as sequestration. Economists estimate that these cuts will eliminate 750,000 jobs by the end of this year, by taking money out of the economy and abandoning critical investments. For example, sequestration threw more than 57,000 preschoolers out of Head Start, decimated scientific research, and furloughed more than 650,000 federal workers at the Defense Department alone, among many other severe consequences.
Allowing another round of spending cuts would only make things worse next year, as federal agencies run out of quick fixes to mitigate the short-term impacts. The Congressional Budget Office estimates that sequestration will eliminate nearly 1 million jobs over the next 12 months and jeopardize our economic recovery for everyone by reducing total U.S. economic growth by 0.7 percent, as measured by gross domestic product.
It's no wonder, then, that both Democrats and Republicans have called for repealing sequestration. Leading conservatives such as House Appropriations Committee Chairman Hal Rogers (R-KY) and 2008 Republican presidential nominee Sen. John McCain (R-AZ) oppose sequestration. Progressive leaders—including the Center for American Progress—have also been wary of accepting any funding agreement based on sequestration.
Unfortunately, the Tea Party views additional spending cuts as a significant victory for austerity. And it was House Speaker John Boehner (R-OH) who initially wanted to drop the unserious demand to defund health care reform and instead focus on locking sequestration spending levels into the continuing resolution.
The Senate does not support sequestration; it passed a budget for fiscal year 2014 that calls for repealing the mindless cuts and replacing them with a balanced mix of smarter deficit reduction. But the Senate agreed to Speaker Boehner's demand to adopt sequestration spending levels in the short term in order to avoid a government shutdown on October 1. Now, Congress needs to use the time provided by the continuing resolution to negotiate a bipartisan plan that invests in the middle class to grow our economy. Progressives are creating an opportunity for that process by making a huge concession now in the continuing resolution. But under no circumstances should anyone accept a proposal that further weakens our economy by extending the continuing resolution's austerity for another full year.
Harry Stein is the Associate Director for Fiscal Policy at the Center for American Progress.
The positions of American Progress, and our policy experts, are independent, and the findings and conclusions presented are those of American Progress alone. A full list of supporters is available here. American Progress would like to acknowledge the many generous supporters who make our work possible.
Authors
Harry Stein
Director, Fiscal Policy