It's Easy Being Green
Myth vs. Fact: Sustainability and the Holidays
Learn how to stay green over the next few months with tips from these five winter myth busters.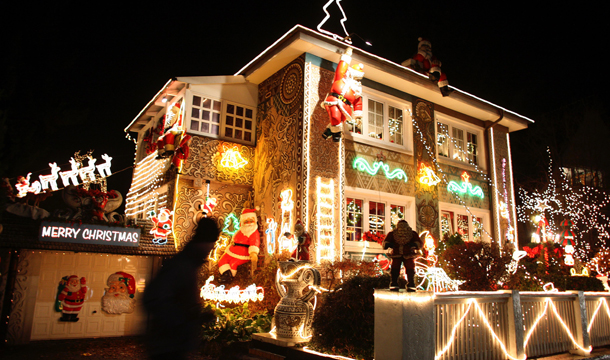 Read more articles from the "It's Easy Being Green" series
Tuesday's total eclipse of the moon happened to coincide with the 2010 winter solstice. This is a combined rarity that has only happened once in the past 2,000 years. This singular kickoff to winter indubitably merits a certain amount of attention paid to staying green in this year's season of white. You may think that hanging a Christmas pickle on your tree does the trick, but there are plenty of other more effective ways to stay green this winter season. Test your knowledge below with these five myth-busting winter wonders.
Myth #1: Faux-fir trees are immortal and therefore unquestionably green.
Fact: Most fake plastic trees are made of hard-to-recycle plastics such as PVC, shipped stateside from China, and do more harm to the environment than good.
The perceived immortality of an artificial tree is misunderstood. Most fake trees only last for about 6 to 10 years before they reach their withered-away Charlie Brown point and then spend eternity in a landfill because they are extremely expensive to recycle. Real trees are biodegradable, local, and they smell nice. They can also be reused as compost or mulch. Read more on the real versus fake tree debate here.
Myth #2: Warming up the car in the driveway is necessary and safe.
Fact: Warming up the car in the driveway is unnecessary, ineffective, unsafe, and a waste of gas.
Idling the car doesn't warm the engine as fast as actually driving it, and after about 10 seconds of idling you start to lose money. Idling also releases unnecessary pollutants into the air, harming both the atmosphere and your health. The Environmental Defense Fund is so serious about this issue that they started an "Idling Gets You Nowhere" campaign to raise awareness. So you can take their word and keep it moving, or take Rihanna's.
Myth #3: There is no harm in buying 50 holiday greeting cards to "send out."
Fact: Each year the United States alone cuts down 300,000 trees to make Christmas cards.
That amount is enough to fill a football stadium 10 stories high with Christmas cat holiday cheer. Instead of driving to the nearest drugstore for your holiday card fix, try making some at home out of recycled card stock, or opt for email. Websites like Someecards.com are hilarious, free, and paperless.
Myth #4: The most brightly lit house on the block is the best.
Fact: Lighting your house enough to be seen from the Hubble Space Telescope is an enormous waste of energy and resources—not to mention inefficient if you are using anything other than LED light bulbs.
LED lights realize 80 percent efficiency and last for around 10 years. That's a big difference compared to incandescent bulbs' 20 percent efficiency and one-year lifespan. Extra bonus: If one light burns out in your string of LED holiday lights, your display of Baby Jesus won't be jeopardized. LEDs aren't just for your winter holiday needs, either. Stick them in your house and you'll be green all year long.
Myth #5: Soy is only good for an afternoon caramel brulée latte or an evening eggnog.
Fact: Soy is more prevalent and useful than you think, and soy candles are a sustainable alternative for your winter lighting needs and greener than traditional paraffin candles.
Paraffin is made from an oil byproduct and is bad for both your health and the environment. Soot from paraffin candles includes toxins and carcinogens. Conversely, soy is made from a renewable resource, and it's biodegradable. Soy candles also burn longer, and they're better for your health, producing 90 percent less soot than paraffin candles.
Keep these facts in mind as you wander through winter and this could be your greenest season yet.
The positions of American Progress, and our policy experts, are independent, and the findings and conclusions presented are those of American Progress alone. A full list of supporters is available here. American Progress would like to acknowledge the many generous supporters who make our work possible.