It's Easy Being Green: Turning the Tide
It's Easy Being Green: Turning the Tide
Efforts such as the Ocean Conservancy's International Coastal Cleanup are trying to get people to see blue as well as green.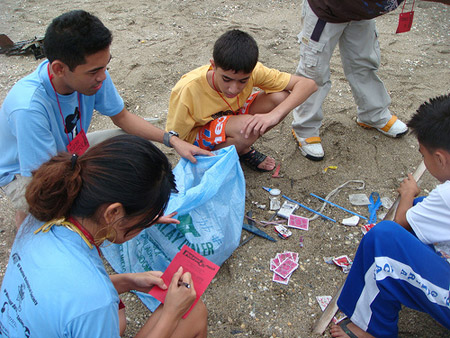 Read more articles from the "It's Easy Being Green" series
The world's oceans are in trouble. Marine trash is a serious environmental problem, and one of the world's most widespread marine pollution problems. Trash kills wildlife and poses hazards to beachgoers as well as fisherman.
According to the Ocean Conservancy, marine debris kills more than 1 million seabirds and 100,000 marine mammals and turtles each year through ingestion and entanglement. Animals such as sea turtles mistake plastic bags and balloons for jellyfish, and seals poke their noses into plastic six-pack rings and get stuck. And then there's the Great Pacific Garbage Patch, a thin, filmy island of floating trash between Hawaii and California that is estimated to be double the size of Texas.
The waste comes from various sources, including ocean dumping, accidental container spillage, wind-blown landfill waste, urban runoff washed down storm drains, and litter from cruise ships and oil rigs. Lost fishing nets from boats can also entangle animals. A majority of the debris is plastic, which has been rapidly accumulating since World War II and does not biodegrade. Plastic can photodegrade under dry conditions, but water inhibits the process.
Some of the waste is washed ashore, while some of it sinks to the seabed. The seabed can become smothered, and accumulation and dispersion of toxic substances can occur in the ocean. Waste can also lead to safety risks for tourists, contaminate beaches and harbors, and present hazards to fishing boats and gear.
Efforts to contain marine debris have largely failed. A congressionally mandated report released last month by the National Research Council found that marine debris will likely worsen this century. The report also stated that current measures to prevent and reduce ocean trash—which includes litter as well as shipborne waste and abandoned boats—are inadequate. It suggested that the United States and the rest of the international maritime community adopt a goal of "zero discharge" into marine environments, along with a multidisciplinary approach to managing existing waste.
While federal action is needed, non-profit organizations and local citizens around the world have been taking action on marine debris for decades. Since 1986, the Ocean Conservancy's International Coastal Cleanup has removed millions of pounds of trash from shorelines, rivers, and lakes across the world. Volunteers collect the trash they find, and the Ocean Conservancy analyzes and publishes the data so scientists, citizens, and policymakers can understand which items are the most common culprits.
In 2007, more than 378,000 volunteers participated in cleanups around every major body of water around the globe. The top 10 debris items collected included:
Cigarettes
Food wrappers/containers
Caps/lids
Bags
Plastic beverage bottles
Cups/plates/eating utensils
Glass beverage bottles
Cigar tips
Straws/stirrers
Beverage cans
The event occurs on the third Saturday in September each year, and this year's results are currently being tallied. If you want to get involved, year-round cleanup opportunities exist on both coasts. For example, Nothin' But Sand Beach Cleanups target Los Angeles County's dirtiest beaches on the third Saturday of each month, and the New Jersey Department of Environmental Protection offers spring and fall coastwide cleanups as part of its Adopt a Beach program.
To help prevent marine waste, several day-to-day actions can also be taken, including using reusable grocery bags, avoiding one-time-use or disposable items, avoiding products with excessive packaging, choosing items made from recycled products, and using reusable beverage containers. And when you visit the beach or campground, look for proper bins to recycle or throw your trash away, or take it home and recycle it to make sure it's taken care of.
Let's face it: No one wants to look at a beach with garbage on it, and everyone agrees ocean ecosystems are critical to supporting human life. So add a little blue to your green and help keep our oceans safe and clean.
The positions of American Progress, and our policy experts, are independent, and the findings and conclusions presented are those of American Progress alone. A full list of supporters is available here. American Progress would like to acknowledge the many generous supporters who make our work possible.