It's Easy Being Green: Top Cities to Leave Your Car at Home
It's Easy Being Green: Top Cities to Leave Your Car at Home
Several websites have taken up the difficult task of ranking the top cities where you can get around without filling up a tank or sitting in traffic.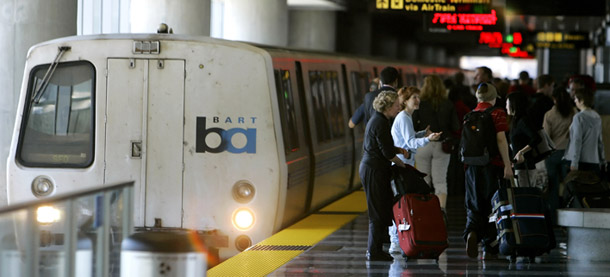 Read more articles from the "It's Easy Being Green" series
Evaluating how green a city's transit system is can be a complex task, but several websites have taken a crack at it. Common components that comprise green transit scores include housing density, telecommuting, bicycle lanes, mixed uses of buildings, sidewalks and walking paths, alternative fuel consumption, and public transit usage. Cities that score high tend to have a combination of these.
Measuring transit systems and practices is important because how people come and go has multiple ramifications, not just on air quality, for example, but on quality of life. Cities are judged not only on how much transit they endorse, support, and make available but also on how many dwellers actually use that transit. Individuals' daily decisions, like not driving alone, can make a big difference in reducing greenhouse gas emissions, saving money, and even helping residents to lead healthier lives.
The top cities for transit depend on who's ranking, and what criteria they use. According to SustainLane.com, a website that weights transit heavily among other factors to rank the 50 most populous U.S. cities' sustainability, the top five green cities for 2008 were Portland, OR; San Francisco, CA; Seattle, WA; Chicago, IL; and New York, NY.
Looking just at factors for green transit yields different results. At Popsci.com, raw data from the U.S. Census Bureau and the National Geographic Society's Green Guide are used to assess transportation habits. By assigning points for public transportation usage, carpooling, and emission levels, Popsci's top five scorers include New York and San Francisco, but also Boston, MA, and Honolulu, HI, with Oakland, CA and Cambridge, MA tying.
And the list changes again when we look through a walkability lens, as WalkScore.com does. The location of nearby stores, restaurants, schools, parks, workplaces, and transit hubs makes some cities better than others for not having a car. The only city to crack WalkScore's top five that didn't make the others was Philadelphia, PA.
Common Current's Warren Karlenzig slices even more specifically, ranking cities strictly by single green transit attributes. His top five for city walk/bike commute rate are Boston, Washington, DC, San Francisco, New York, and Seattle.
The cities' transit practices vary as widely as the rankings. For Portland, the winning formula includes its high bicycle ridership, walkability, extensive light rail system, public transit to the airport, and its new push to train and celebrate "options ambassadors"—community organizers who reach out to encourage Portland motorists, pedestrians, cyclists, and transit riders to not ride alone.
San Francisco places in the top five on many lists for its combination of rail ridership, city commuting practices, high density, and the city's innovative tax relief for commuters (who can save up to 40 percent on their commuting expenses when they take the bus, train, ferry, or vanpool to work). Seattle's residents use the massive interconnected public transit system linking traditional and innovative new light rail with ferries in high numbers. The city also sports bike lanes in concert with "urban villages," clusters of offices, stores, and homes in walkable communities.
Chicago places third in SustainLane's top U.S. green cities rankings by earning high marks for its walkability and metro ridership ratios—close to one-third of all Chicago residents use public transportation to get to work. New York's high metro ridership, housing density, massive public transportation system—which includes an extensive and complex underground subway—walkability, and innovative programs like Summer Streets—which regularly closes off cars from portions of the city—combine to enable half of its residents to come and go without a car.
The combined bus and metro public transit system which connects Washington, D.C to communities across a multicity region also has high ridership rates. The area is bike-friendly, and transit-oriented development has spawned neighborhood shopping hubs around many metro stations. These factors, in addition to wide sidewalks and a compact size, contribute to the nation's capital's ranking among the top five cities for cycling and walkability.
But these aren't the only cities working to improve transit options for livable communities. Many other cities encourage alternative transit systems and practices, and they accomplish multiple reductions in energy use and pollution while improving the mental and physical health of their residents. For example, as of last December Charlotte, NC's LYNX light rail line was helping an average of 16,000 passengers every weekday avoid car traffic and get around without gas. City mobility that is enhanced by alternatively fueled mass transit, light rail, bicycle lanes, sidewalks, high-density in-town development, and support for mixed real estate uses not only encourages walking and cycling but also reduces our dependence on oil.
Many agree that most of the credit for a city's green transit system belongs to its people. As Portland's former mayor Tom Potter has said, "It's the folks who choose to bike or take the bus to work, and all those day-to-day decisions that are making a huge difference."
The positions of American Progress, and our policy experts, are independent, and the findings and conclusions presented are those of American Progress alone. A full list of supporters is available here. American Progress would like to acknowledge the many generous supporters who make our work possible.