It's Easy Being Green: Quick Tips for an Energy Efficient Workplace
It's Easy Being Green: Quick Tips for an Energy Efficient Workplace
Here are a few ideas to help you use resources more wisely at work.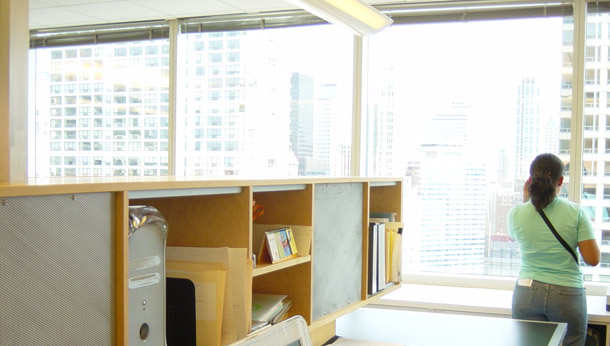 Read more articles from the "It's Easy Being Green" series
Plenty of resources get wasted at offices, including paper, electricity, and transportation costs for delivering office supplies. It's easy to cut back on these costs and create a workplace that's in tune with you and your co-workers' values.
Here are a few ideas to help you get started.
Get rid of plastic utensils. Buy a silverware set instead of using throwaway plastic knives, forks, and spoons. It generates less waste, prevents repeated purchases of plastics, and guarantees available silverware. While you're at it put signs up encouraging people to wash their own dishes to provide a steady supply of clean utensils. Or go the extra mile and try to replace throwaway kitchen items completely by donating old Tupperware containers, silverware, and dishes for people to use in the office to replace paper items.
Use a water filtration system. Filtration systems are an upfront investment, but they pay off over the long term. They remove particles, chemicals, and bacteria and only have to be delivered once. Delivered water bottles, on the other hand, typically cost $6 to $8 for each five-gallon bottle. Manufacturers of bottled water are also not required to adhere to the same standards as municipal water treatment facilities.
Let some sunshine in. Look for places where you can use natural lighting. Offices that have many windows usually allow enough light in on sunny days to keep the office well lit. In darker parts of the building consider switching out conventional bulbs for compact fluorescents or consider an LED desk lamp. They use less watts and last longer than conventional lamps.
Power down. According to the Daily Green, 90 percent of desktop computers are not optimized for energy efficiency, and it only takes a minute to set up your computer's power-saving features. Turning off your computer when you aren't in the office is a huge energy saver. Plug all the hardware for the computer into a power strip with an on/off switch and turn everything off when you leave—including the lights.
Less paper. Computer folders are taking the place of file cabinets and documents such as PDFs can typically be viewed online. When the need arises to print, keep recycled paper handy, which uses 60 to 70 percent less energy to produce than paper made from virgin pulp. Look into setting up a recycling program if your office doesn't have one, and if you've already got one running, make sure the bins for paper are close to the printers for convenience.
Promote ride sharing. Put up a ride-sharing board in the break room or other common area for people to use for sharing commutes. It can help save on gas costs, increase staff harmony, and make the morning traffic a little easier to bear.
Start a sustainability club. Making your workplace more energy efficient is an ongoing effort. Send an email around to co-workers asking if they're interested in forming a club that meets once a week or month to talk about ideas to use less energy.
The positions of American Progress, and our policy experts, are independent, and the findings and conclusions presented are those of American Progress alone. A full list of supporters is available here. American Progress would like to acknowledge the many generous supporters who make our work possible.