Honoring the Hopes and Dreams of Our Nation's Dads
Honoring the Hopes and Dreams of Our Nation's Dads
Developing Policies Meeting the Needs of Low-Income and Working-Class Men
The issues, needs, and concerns of low-income fathers and working-class men in general must be part of the national conversation, argues Joy Moses.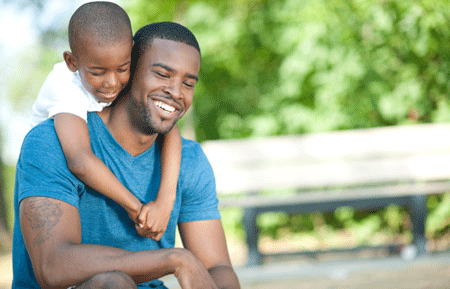 Undoubtedly, the nation will find many ways to honor its dads this weekend. This sentiment should extend to the halls of Congress and the White House. This is especially so now as too many low-income fathers are worried about their ability to put food on the table for their children and finance the dreams they have for their families. So significant are these concerns that in some ways it's easy to wonder what it would be like if these fathers and their interests were even more central to the conversations happening in Washington, D.C. and at other levels of government, informing my work and that of others in the policy world as we seek to improve outcomes for children and families.
Men, especially those at the bottom of the economic ladder, had reason to worry during the Great Recession, sometimes dubbed the "Mancession," since jobs held by men accounted for more than 70 percent of those lost during the economic downturn. Even as their jobs situation has improved, with the unemployment rate for men dropping from a high of 11.6 percent in early 2010 to 7.5 percent this past month, the nation's low-income fathers still have considerable worries. Pollsters have found that the biggest concerns of men more generally are jobs and the economy.
Low-income men, unlike several definable societal groups who have advocacy structures, researchers, grassroots organizations, and other tentacles of support that are rooted in the transformational energy of the 1960s and early 1970s, lack the same type of collective voice. Simply put, a broad-based movement encompassing low-income men and their concerns has never been part of the nation's advocacy or legislative landscape. It hasn't been until more recent years that the downward trend in employment opportunities and wages for men of all colors with limited education, and our current culture of mass incarceration that impacts African American men far more than any other group, that the plight of low-income and working-class men has reached a state of emergency.
Thus, relative to other causes or interest groups, the structures that support the cause of low-income men and fathers is still emerging and developing. This dearth of structure and support is likely impacting the way their voice is heard and considered in the political arena and the public sphere.
Historically, unions have played an important role in organizing blue-collar men around the central issues of jobs and wages. Yet, the number of people connected to unions has been on the decline, likely leaving a void for voicing and channeling their frustrations into productive proposed solutions. On the incline has been caustic political punditry turning those frustrations into hatred of a rotating list of enemies and perhaps, for those who have waited too long for equality, into a sense that change is unlikely or at least not easy to achieve.
Despite shorter historical roots and the erosion of the unions, the needs and interests of low-income fathers are certainly in the policy space. Recent progressive political action is a good example—the American Recovery and Reinvestment Act, which alone created or maintained up to 3.6 million infrastructure and other jobs in its best quarter and the auto industry bailout that saved 1.45 million jobs, reaching many men who are significantly represented in construction and manufacturing work. Moreover, during the past year, the nation modestly grew its small, previously $50 million fatherhood program, which works with low-income fathers on employment, parenting, and other concerns. But perhaps there is still more for the policy world to hear from low-income fathers and more that it can do to develop policy that honors them year round instead of just one Sunday in June.
Joy Moses is a Senior Policy Analyst with the Poverty and Prosperity program at the Center for American Progress.
The positions of American Progress, and our policy experts, are independent, and the findings and conclusions presented are those of American Progress alone. A full list of supporters is available here. American Progress would like to acknowledge the many generous supporters who make our work possible.
Authors Joy Moses
Senior Policy Analyst