He SED, She SED
The Strategic & Economic Dialogue with China
Today's Strategic & Economic Dialogue with China marks an important shift by the Obama administration toward global cooperation, writes Nina Hachigian.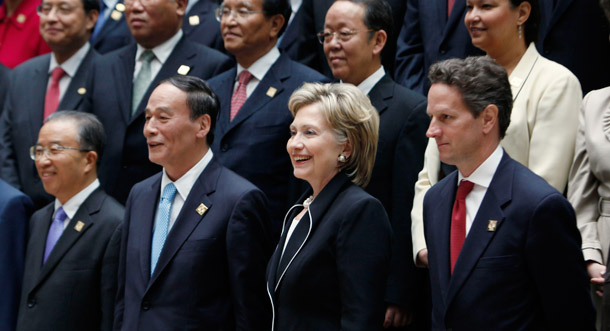 Believe it or not, in the upcoming "Strategic & Economic Dialogue" with China, the "&" signals a key process and policy shift for the United States.
China policy under the Bush administration was a rare showcase of foreign policy competence and moderation—after a rocky beginning during which Cold War hawks gained the upper hand—in part because it developed into a twice-yearly negotiating session with the Chinese called the Strategic Economic Dialogue, led by former Treasury Secretary Henry Paulson. Useful as that forum was, however, it always seemed misguided to have the Treasury Department coordinating the nation's China policy given the weighty security issues on the bilateral plate, among them avian flu and North Korea's nuclear program.
So when Hillary Clinton took the reins at the Department of State, her promise of a more comprehensive approach to China was welcome. The "&" soon followed. Today she will co-chair the first S&ED along with Treasury Secretary Tim Geithner and their Chinese counterparts State Councilor Dai Bingguo and Vice Premier Wang Qishan.
With that change and others, the Obama administration is getting off to a promising start on China policy. Even so, differences between Washington and Beijing in approaches to global challenges will be very difficult to overcome.
All Clinton and Geithner, Dai and Wang will attend the first half-day of meetings, which will address issues such as climate and clean energy that touch both security and economic concerns—an unusual effort to tackle a cross-cutting issue using a cross-cutting format. Then the two sets of wonks will go their separate ways and get more into the weeds on issues such as, for the Treasury side, economic stimulus and currency and, for State, Afghanistan and Pakistan, Myanmar and Iran. Other cabinet officials, among them Secretary of Energy Steven Chu, will join for their particular topics.
The Obama administration has slightly shifted the frame of the bilateral relationship toward one where two big powers, not equal, but both very consequential, will together tackle shared challenges. While the United States and China will continue to discuss and grapple with contentious bilateral issues—human rights, the trade imbalance, industrial espionage, a lack of military transparency, and Taiwan, among others—a collaborative approach to shared global problems is a new focus. Such a frame could encourage China to make more responsible choices because the most important bilateral relationship Beijing has will be shining a spotlight on global problem-solving.
Progress down this path will be very slow, and the ratio of negotiating to breakthroughs frustratingly high. The United States and China share top-level goals on the most dire transnational threats—preventing new nuclear states, halting climate change, fixing the economic crisis, and halting the spread of deadly viruses—but the differences in strategies, priorities, and perceptions that inform those aspirations are always very difficult to bridge.
Sino-American collaboration over North Korea's nuclear program reeks of this duality. More than on any other national security threat the United States cares about, Beijing has stepped up to the plate, hosting the Six Party Talks, drafting documents, and even —in a real break from its typical opposition to such invasive measures—voting twice in favor of tough sanctions against Pyongyang at the United Nations. Yet when push comes to shove, China prefers a nuclear North Korea to a collapsed one, or so it seems, whereas America prefers the opposite.
The good news is there is a healthy debate in China right now about whether to turn the screws on its northern neighbor. Maybe that second nuclear test was really straw that broke the camel's back for Beijing.
Climate is similarly fraught and has the makings of a full-on political maelstrom. China is a Blue-Dog Democrat when it comes to climate. Unlike many right-wing politicians, Beijing's rulers—many of them engineers—believe the science of global warming. They understand the earth is heating up because of human activity and that the consequences of those trends could be devastating to China.
Nevertheless, because the West grew rich spewing carbon, because much of its own population remains very poor with low per-capita energy use, and because the regime must, for its own preservation, keep economic growth going, greenhouse gases or not, Beijing wants someone else—the United States and Europe—to pay the price. Beijing has thus called on the West to commit to targets that everyone knows are ridiculous and impossible.
In contrast, some Blue Dogs in the U.S. Congress are inclined to ensure that the United States isn't shouldering an unfair burden by placing tariffs on Chinese goods if China doesn't accept binding limits on its emissions during the global climate change negotiations in Copenhagen in December. This could add fuel to an already firey trade relationship.
Yet many "clean-energy" collaborations with China are in the works. And perhaps China's current posturing is just that—knowing that the future of the planet is on the line, it will make key concessions in December.
While the "&" marks an improvement in process, we can't expect any big announcements when this week's S&ED concludes. Later this year Presidents Barack Obama and Hu Jintao will meet twice, once in New York and once in Beijing. Hopefully they will have more to reveal.
Nina Hachigian is a Senior Fellow at the Center for American Progress and co-wrote The Next American Century: How the U.S. Can Thrive As Other Powers Rise. She blogs at worldfocus.org/pivotalpower.
The positions of American Progress, and our policy experts, are independent, and the findings and conclusions presented are those of American Progress alone. A full list of supporters is available here. American Progress would like to acknowledge the many generous supporters who make our work possible.
Authors Nina Hachigian
Senior Fellow