Gutting American Productivity and Competitiveness
Gutting American Productivity and Competitiveness
Republican Study Committee's Deficit Reduction Plan Threatens Our Future
Adam Hersh examines the draconian cuts to our nation's critical innovation programs—cuts that would gut jobs growth now and in the future.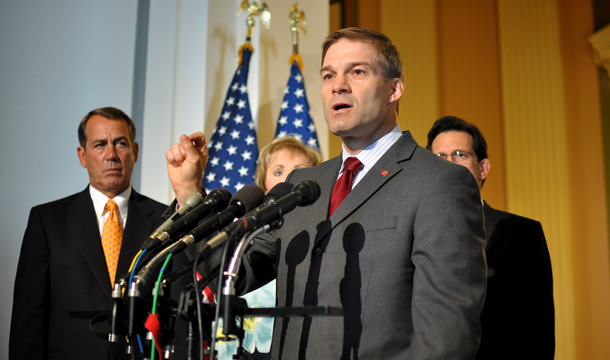 For American workers and business owners straining to gain a foothold as our economy works its way out of the Great Recession, the deficit reduction plan released last week by the Republican Study Committee cannot be good news. That's because, rather than nurturing the roots of economic revival, the RSC plan will plow salt into the fertile soil of our economy, fundamentally undermining economic recovery today and innovation, productivity, and competitiveness in the United States for years to come.
Let's begin with the basics. The staggering $2.5 trillion headline number that the RSC plans to cut is mere political theater. After all, the plan actually identifies specific cuts amounting to just 13 percent of the overall figure Republicans say they want to cut, or about $330 billion over 10 years. When pressed on what additional services or investments he would like to see cut, Republican Speaker of the House John Boehner (R-OH) said, "I don't think I have one."
But for the moment let's take the proposal at face value and look at what the few specifics the RSC proposes cutting would mean for the American economy. The RSC's plan to turn back the clock in order to lock in 2006 spending levels aims to gut nearly one-third of nondiscretionary federal spending on public investments and public services. In 2006 this amounted to $477 billion (adjusted for inflation), or a mere 3.7 percent of U.S. gross domestic product.
Holding spending constant at this level would mean that as our economy grows over the next 10 years we will have just 2.8 percent of GDP for public services, investments, and regulatory enforcement that ensures a safe, stable, and strong economy. This compares to 4.7 percent in 2010, which means scrapping 40 percent of the nondefense budget—science and innovation will be out for sure, and so will virtually every other public service and investment.
The RSC also wants to eliminate jobs for 15 percent of the federal workforce. With nearly 15 million Americans already unemployed and looking for work, the Republican Study Commission's plan would end jobs for another 345,000 workers at a time when the unemployment rate has stood at or above 9 percent for more than 20 months now (and is forecast to remain there through 2011 at least). And don't count on unemployment insurance benefits being available once the RSC gets done with its cuts.
Given the specific programs it would cut, it seems the RSC plan would also ensure new job opportunities never materialize. While our global competitors invest in high-technology innovations, infrastructure, and manufacturing to create new industries and foundations for a high-productivity economy, the RSC plan would pull the rug out from under small businesses and innovators critical to America's economic success in generating the greener, leaner, more productive jobs of the future. The RSC plan, for example, targets for the chopping block programs such as the Manufacturing Extension Partnership, the Economic Development Administration, and the U.S. Trade Development Agency that help small businesses invest in productivity and develop new export markets.
The RSC plan would further eliminate resources through the Technology Innovation Program, Applied Research at the Department of Energy, and the FreedomCAR critical to developing the innovative technologies of the future for American industry and to secure our energy independence and protect the environment. And it would eliminate the Market Access Program and the National Organic Certification Program, both of which have helped spawn investment and innovation by and create new markets for agricultural producers.
The RSC also wants to cut productivity-enhancing investments in high speed rail and public transit as well as the Energy Star program, which creates incentives for efficiency innovations in energy use. And that's just a start of the laundry list of RSC cuts—we don't yet even know what other incentives and investments for a productive economy they would raze to make the other $2.2 trillion in cuts they want.
The contrast between how the Republican Study Committee wants to take us backward in innovation and productivity and where America needs to move forward to secure a dynamic competitive economy for the 21st century was highlighted by the visit of Chinese President Hu Jintao to the White House this week. What issue led the discussion? How China's support for innovation, research and development, and government-led investments in cutting-edge infrastructure have fundamentally transformed their economy into a formidable competitor.
A recent report by my colleagues at the Center for American Progress, "Rising to the Challenge: A Progressive U.S. Approach to China's Innovation and Competitiveness Policies," presents a responsible array of policy choices for Congress to consider in our global competition with China—and make no mistake: We are engaged in a serious contest with China for which we need to prepare, not rest on our laurels.
In addition, there is certainly room to improve the efficiency of spending on public services and public investments supplied by the federal government—not least in the Defense Department, which the RSC plan ignores completely. But the draconian cuts proposed by the RSC are not about fine-tuning critical government functions to improve economic growth; it's a scorched-earth policy intended to fundamentally deform the government's role in advancing America's economic vibrancy.
Budget policy requires careful attention to the country's immediate economic needs—securing the economic recovery and creating jobs for the nearly 15 million people unemployed and looking for work—while ensuring we make the investments necessary for America's long-run competitiveness and economic prosperity. This plan moves us radically away from both of these goals.
Adam S. Hersh is an Economist with the Center for American Progress. To learn more about how the Center would address the federal budget deficit fairly, efficiently, and effectively, see the Federal Budget page on our website.
The positions of American Progress, and our policy experts, are independent, and the findings and conclusions presented are those of American Progress alone. A full list of supporters is available here. American Progress would like to acknowledge the many generous supporters who make our work possible.
Authors Adam Hersh
Senior Economist